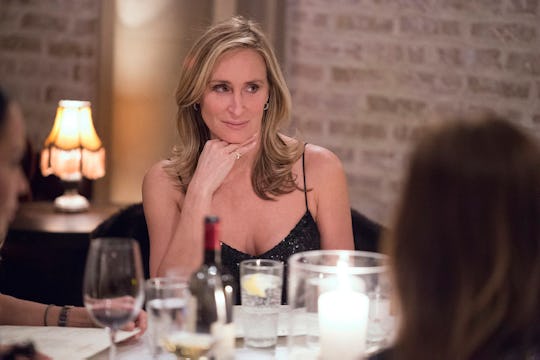 Dave Kotinsky/Bravo
Sonja Morgan Debuts Tipsy Girl On 'Real Housewives,' & Bethenny Frankel Isn't Happy
On the Real Housewives of New York on Wednesday, Sonja Morgan unveiled her latest business venture, a line of prosecco called... Tipsy Girl. Sound familiar? Bethenny Frankel certainly thought so, and the previews for Episode 7 show the two girlfriends having a serious fight over their respective liquor companies and their names. Bethenny, and some others, believe that Sonja Morgan's Tipsy Girl sounds a little too close to Skinnygirl, and their friendship may end as a result.
Sonja is known for her various capitalist endeavors. From her toaster — is that thing ever coming out? — to her clothing line, which she last season enlisted Bethenny's help on, Sonja is seemingly always trying to launch one new product or another. But this time it looks like Bethenny won't be much help in getting the product to market. In fact, she appears to be doing everything in her power to keep Tipsy Girl from hitting the shelves. The unveiling party seen in May 11 episode reportedly took place late last November. And the sneaky legal maneuvering began soon thereafter. Though Sonja and her team had trademarked Tipsy Girl months earlier, according to Page Six, Bethenny attempted to trademark the name Tipsygirl (without a space), to block Sonja's product from going to market. The Skinnygirl brand even tweeted this snarky comment while the episode aired, presumably in reference to Sonja's international lifestyle brand.
To be fair, Tipsy Girl does sound an awful lot like Skinnygirl. In the episode, Ramona Singer remarked that the two names were just a little too close for comfort. Ramona has spent a lot of the past few episodes fretting over Sonja's drinking, remarking that a liquor company is the last kind of product that Sonja should be creating. If things continue down this road, Ramona might just get her wish.
Sonja, as ever, doesn't seem that deterred however. In an episode of Kocktails With Khloe, the talk show hosted by star of Keeping Up With the Kardashians, Khloe Kardashian, Sonja stated that she was going to have to change the name, for the sake of her friendship with Bethenny. "I have to do something about the name. My girlfriend Bethenny wasn't thrilled with that," she said. But then again, Sonja tweeted the hashtag #TipsyGirl several times throughout the episode, so maybe she's not changing it after all.
Personally, I hope Sonja sticks to her guns. She is, after all, "the ultimate tipsy girl," as she described herself.