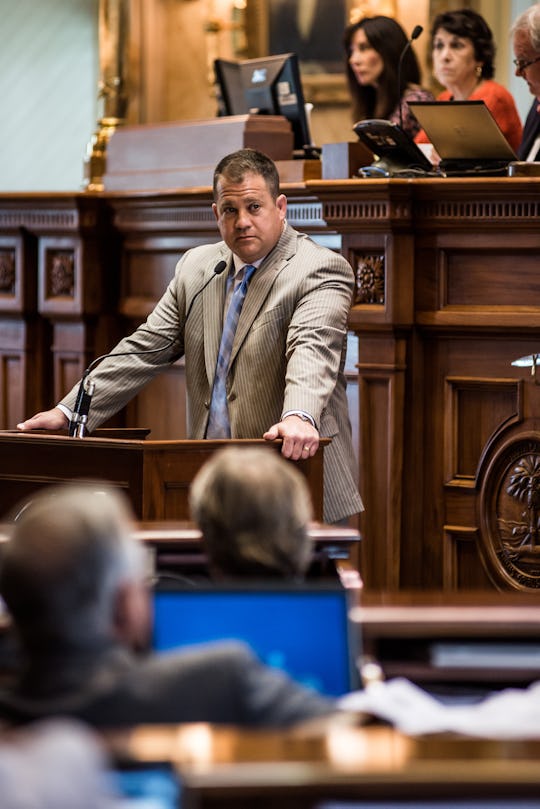 Sean Rayford/Getty Images News/Getty Images
South Carolina's 'Bathroom Bill' Is Bad News For The Transgender Community
On Wednesday, Sen. Lee Bright introduced S. 1203 to the state Senate — South Carolina's "bathroom bill" — and it could spell legalized discrimination for the transgender community in the Palmetto State if it passes. Bright's bill takes its bigoted cues from North Carolina's HB2 — the Public Facilities Privacy & Security Act — a similar bill signed into law by Gov. Pat McCrory last month. Both bills mandate that men and women must only use bathrooms according to their biological sex.
North Carolina's anti-LGBT law has already cost the state business sector woes, as companies such as PayPal, which announced it will forgo building a new North Carolina facility that would have added 400 new jobs to the state, begin to leave in droves. Meanwhile, more than 100 companies have sought a repeal of HB2, in a joint letter sent to Gov. McCrory. A similar response could also hurt South Carolina.
More concerning still for the LGBT community of South Carolina are Bright's comments when he introduced his bill. Speaking before his fellow legislators, Bright said on Wednesday:
I've about had enough of this. I mean, years ago we kept talking about tolerance, tolerance, and tolerance, and now they want men who claim to be women to be able to go into bathrooms with children. And you got corporations who say this is okay.
South Carolina Gov. Nikki Haley has already responded to Bright's awful, bigoted bill proposal. Speaking at a press conference Wednesday, Haley remarked that the much of Bright's bill is already covered in another state law from 1999:
What I will tell you is in South Carolina, we are blessed because we don't have to mandate respect or kindness or responsibility in this state. And so I'll tell you that law has worked perfectly. I don't know of any example that we've had a problem on, and South Carolina is going to continue to focus on ethics, and on roads, and on jobs, and on all of those things, because we think we've got that part covered.
You may remember the spirited Sen. Bright from such baffling displays of conservative pride as when he went on an anti-gay rant during a Confederate flag debate in the state Senate last summer:
Thankfully, Bright's eight years representing South Carolina's 12th district are up this November. Bright faces three Republican opponents for the 12th district seat in the state's general primary in June.
Also on Wednesday, opponents of two similar bathroom bills currently in the Tennessee state House and Senate spoke of the potential economic damage such a transphobic bill could have in the Volunteer State. State legislators are expected to review the bills in committee in the coming days.
South Carolina and Tennessee are the two latest states riding a wave of anti-LGBT legislation, joining Mississippi and its sweeping "religious freedom" bill signed into law on Tuesday. Mississippi House Bill 1523 allows business owners carte blanche to discriminate against hiring, working with, or providing services for LGBT individuals on the basis of their sexual identity alone.
Meanwhile, two similar bills in two states targeting the LGBT community that ultimately failed to pass: last month, Georgia's religious liberty bill was vetoed by Gov. Nathan Deal and South Dakota's legislature failed to override a veto by Gov. Dennis Daugaard for a bill specifically targeting transgender students.