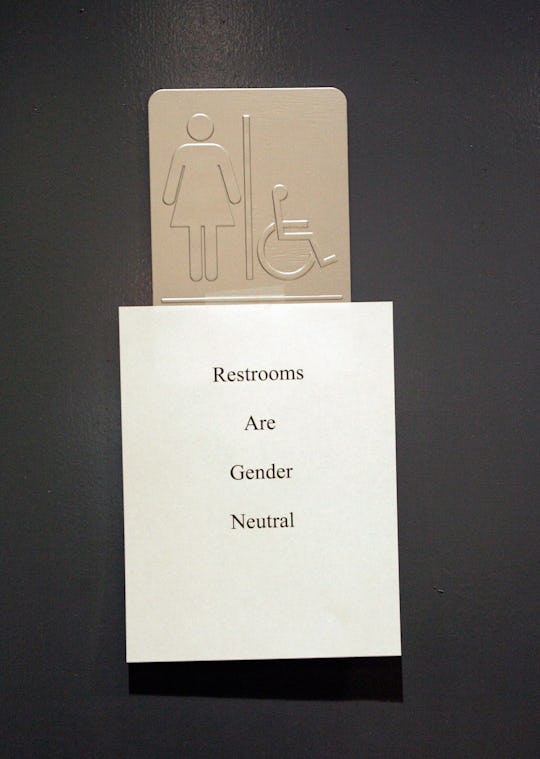 HECTOR MATA/AFP/Getty Images
South Dakota Bill Bans Transgender Students from Using The Bathroom Of Their Identity & Effectively Addresses A Non-Issue
South Dakota legislators may change everyday life for transgender students. On Wednesday, House Bill 1008 passed in the state senate and house; If it becomes law, use of public school bathrooms will be governed by biological sex instead of gender identity, Cosmopolitan reported. The implications of South Dakota's transgender bathroom bill for students who don't identify with their birth sex are significant.
If the bill becomes law, here's what would happen: Students in elementary and secondary schools in South Dakota will only be able to use the bathroom that corresponds to the sex they were assigned at birth. Transgender students would be permitted to submit a note from a parent or guardian that would give them access to alternative accommodations, likely single-occupancy or unisex restrooms. Although the provision is likely meant to make the legislation sound less discriminatory, it functionally forces transgender students to alienate themselves from normal student life or integrate into a system that doesn't honor their identities.
Transgender students already deal with discrimination at school as it is. The National Transgender Discrimination Survey found that 78 percent of transgender students faced harrassment or assault, according to the National Center for Transgender Equality (NCTE). Even when youth aren't immediately in danger, the NCTE reports that the threat of violence has a major impact on transgender students' wellbeing.
"A national survey by GLSEN has found that 75% of transgender youth feel unsafe at school," wrote the NCTE in a recent report, "and those who are able to persevere had significantly lower GPAs, were more likely to miss school out of concern for their safety, and were less likely to plan on continuing their education."
Bullying can have catastrophic consequences. The National Transgender Discrimination Survey found that 51% of transgender individuals who were harassed or bullied in school attempted suicide, according to the National Gay and Lesbian Task Force. Any piece of isolating legislation that perpetuates an us-versus-them mentality distances transgender students from their peers.
House Bill 1008 could be extremely damaging to transgender students, but there's little evidence to suggest that equally-accessible bathrooms are harmful to anyone. Media Matters for America recently found that the 17 biggest school districts in the United States to adopt "trans-inclusive nondiscrimination policies" reported no resulting bullying or harmful consequences. That suggests that House Bill 1008 effectively addresses a non-issue, making its intent feel more discriminatory than protective.
GLAAD released a statement this week condemning the legislation, with President & CEO Sarah Kate Ellis strongly encouraging a rethink on the motivations behind the bill:
As the mother of twins, when I send my kids to school, I expect them to be safe and shielded from ridicule. This discriminatory bill puts our children in harm's way, fueling stigma, bullying, and a climate of hate. Gov. Daugaard must fulfill his duty to protect all South Dakotans, especially its young people, by vetoing this mean-spirited and destructive bill.
Requiring students to choose bathrooms based on biological sex is invasive and difficult to enforce. Offering alternative accommodations for students who fall outside of the gender binary relies on the same flawed "separate but equal" ideology of our nation's history. Creating cohesive classroom communities means embracing students as they are and encouraging inclusivity. Drawing dividing lines by sex discourages kids from flourishing as individuals and jeopardizes healthy self-discovery. All children should not only feel safe in their identities, but welcomed by the institutions that shape their futures.