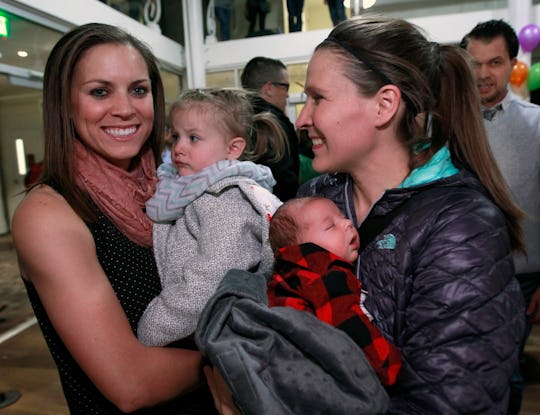 George Frey/Getty Images News/Getty Images
This Anti-LGBTQ Legislation Just Became Law
With the barrage of information coming at you from every direction these days, it's hard to keep track of every piece of legislation in every state in the United States. But while the new American Health Care Act (the ACA's replacement), the Choices in Education Act of 2017, and all of President Donald Trump's executive orders may be a bit distracting, there are some other things going on that deserve their own spotlight — even if they don't directly affect all Americans. For example, South Dakota's recent anti-LGBTQ legislation hurts families looking to adopt, and it's already been signed into order.
The intended purpose of the Senate Bill 149 is to, "provide certain protections to faith-based or religious child-placement agencies," according to its sponsors, state Sen. Solano and state Rep. Haugaard. The bill was signed into law by Gov. Dennis Daugaard on March 10 following a month of hearings, testimonies, and protests. The bill makes South Dakota the first state to pass anti-LGBTQ legislation in 2017, and its implications for LGBTQ families, both existing and prospective, is massive.
According to Libby Skarin, Policy Director of the ACLU of South Dakota, the new bill "sends the message that our leaders are more concerned with the desires of religious agencies than the rights of individuals and children in our state."
While the bill changes several technicalities of past bills dealing with foster care and adoption in the state of South Dakota, the most contentious piece of the legislation is as follows:
No child-placement agency may be required to provide any service that conflicts with, or provide any service under circumstances that conflict with any sincerely-held religious belief or moral conviction of the child-placement agency that shall be contained in a written policy, statement of faith, or other document adhered to by a child-placement agency.
So while the bill paints itself as one that protects religious freedom, it actually acts as more of a discriminatory piece of law rather than one advocating for true freedom.
As a report by NBC indicates, LGBTQ families who have already been fostering children for years could see their families ripped apart by the bill, if the foster care agency they went through decides that they don't want the children to live in a gay-parent household; The bill gives agencies that right.
One particular family NBC interviewed, Billy Mawhiney and Kyle Margheim, expressed their disdain at the law, with Mawhiney stating, "I'm a Christian and I believe in freedom of religion, but it should not be used to deny kids homes, to deny vulnerable children loving parents."
Individual freedoms and rights matter, not just for people who love, think, or worship like everyone else. Senate Bill 149 shouldn't just make South Dakotans sit up and listen — it should grab everyone's attention and be the reason parents everywhere finally speak out in defense of equality and love, if they haven't already.