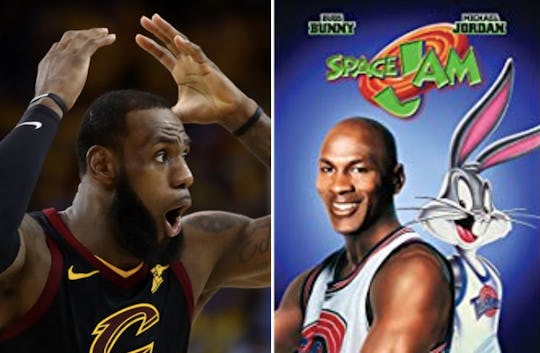 Ezra Shaw/Getty Images Sport/Getty Images/ Amazon
'Space Jam 2' Is Officially (& Finally) Happening, So Get Ready To Pump Up The Jam
Space Jam is just one of those iconic films from the 90s that instantly takes you back to your childhood. The film — starring basketball legend, Michael Jordan, and the animated cast from Looney Toons — became an instant classic for so many millennials. And the current generation of kids is going to experience the same feelings of joy and amazement, thanks to a new announcement on Wednesday. Yes, what I'm trying to say is that Space Jam 2 is finally happening and get ready to pump up the jam with your little ones soon.
This generation's basketball star, humanitarian, and all around superstar, LeBron James, is set to star in the sequel (not reboot) of the original film, according to People. And on Wednesday, James' production company was the first to share the first official sneak peek to the film on Facebook.
So the sneak peek is just a photograph announcing the film, but it still exciting nonetheless, especially for fans of the original film. In the photo, a locker room can be seen with Bugs Bunny and James' names on two of the cubbies, alongside Terence Nance, who will direct the film, and Ryan Coogler, who will produce it, according to People.
Looney Toons graffiti can be seen inside of the cubbies, along with the team uniform from the first film. This can only mean one thing — Space Jam 2 is going to be some serious business.
The film is going to be a continuation of where the original Space Jam (which came out more than 20 years ago in 1996) left off, according to People. This means that it is something that so many adults will get to enjoy (because they finally get to know if the evil team of Monstars will make their return) and kids will love (because what is not to love about the LeBron James interacting with cartoons?).
As expected, people on Twitter are very excited about this.
Did I say that they were excited? I meant that they were really, really excited.
This isn't the first time people have been teased with a sequel to Space Jam — it's been in development for a few years now — which makes Wednesday's announcement even better. In 2016, it was announced that the script for the film was in development, according to The Hollywood Reporter, with James attached to star in the film and Fast & Furious 6 director, Justin Lin, attached to direct.
In 2017, during a Television Critics Association panel, Lin said that the film was being delayed because the "timing wasn't right." Lin said, according to CinemaBlend:
So there's a logistical challenge but also creatively, to do a sequel, but also creatively, to do a sequel 20 years later with a new cast and also be able to, in a relevant way, bring the Looney Toons back. That's very important for me to do it right. I feel I've done nine different iterations already and we're going to keep going, but we're getting closer every day.
But the timing must be right now, because a lot has changed in a year. Now, Lin is no longer set to direct the film, according to People, and James might be a little more available to shoot the movie, thanks to his recent move to Los Angeles, California to play for the Lakers.
Since it's been more than 20 years, fans of the original film might need a little refresher to get them up to speed. In Space Jam, Jordan teamed up with the Looney Toons (in all of their animated glory) in order win a high stakes basketball game against a team of intergalactic creatures, called the Monstars, according to Rotten Tomatoes.
Although watching the film now is like taking a lovely trip down memory lane (because no one is watching it now for its amazing animation or acting), at the time of its release, Space Jam was panned, according to The Washington Post, and has a 30 percent rotten rating on Rotten Tomatoes.
But with such awesome names and a lot of hype attached to the new film, you have to believe that it will do a little better — especially since James is a seasoned actor who has gotten rave reviews for his films, according to Sports Illustrated.
Sure, this preview doesn't say anything about the sequel's plot, but it sure did get people amped for the upcoming film.