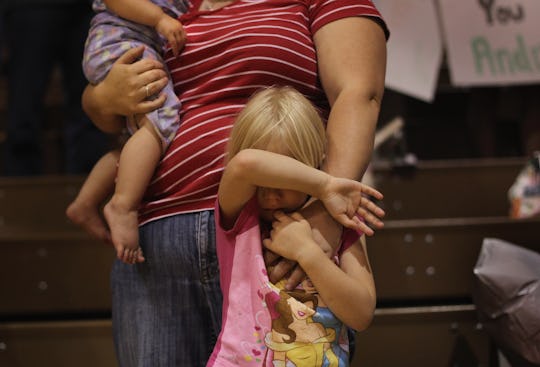 John Moore/Getty Images News/Getty Images
Spanking Should Not Be Used For Discipline, The AAP Strongly Urges
Studies have long shown that the use of physical discipline with children is ineffective, but the American Academy of Pediatrics has now said that spanking should not be a form of discipline because it can actually cause real harm — its strongest statement yet. According to the new announcement, released by the group representing 67,000 doctors nationwide, as the New York Times reported, the harmful effect of using physical behavior to get a child to cooperate can simply not be underestimated.
"One of the most important relationships we all have is the relationship between ourselves and our parents, and it makes sense to eliminate or limit fear and violence in that loving relationship," Dr. Robert D. Sege, pediatrician at Tufts Medical Center and co-author of the new report, told the New York Times.
While experts have discussed negative long-term effects of corporal punishment in general, a team of researchers at the University of Texas at Austin and the University of Michigan found that spanking can make kids more aggressive and "less successful," as the website for Today noted.
But, sometimes, well-meaning parents regard the act as not so serious. Babble noted that even celebrities admit to spanking their kids.
Pink, Candace Cameron Buré, and Kate Gosselin have all defended spanking according to BabyGaga.com. Kelly Clarkson seems to think a spank is fine, as she told Page Six.
Unfortunately, however, parents who assume a quick smack on the rear won't do harm and may get them a short-term result may not fully understand what more recent research has to say on the subject, according to the AAP — information that was not available two decades ago when many of today's parents were being raised. For example, spanking can lead to outcomes that are very similar to outright physical abuse, as the New York Times reported the new findings said.
The report, which defines spanking as "noninjurious, openhanded hitting with the intention of modifying child behavior," will be highlighted in the December issue of the journal Pediatrics, with an official recommendation that pediatricians urge parents not to spank or use physical punishment of any kind.
And while it can be hard for even the most chill mom or dad to remain patient after a long day with young kids, the new info makes it all the more clear how important it is that parents find positive ways to encourage good behavior, as HealthyChildren.org, a website connected to the AAP, noted.
"There's no benefit to spanking," the AAP's Dr. Sege added in the report. "We know that children grow and develop better with positive role modeling and by setting healthy limits. We can do better."
And the good news is, with the message finally getting out that other methods have been found to be more successful in teaching children right from wrong — and with celebs like Mayim Bialik sharing the latest research — parents may re-examine any old-school attitudes they still have about this practice.
Absolutely no parent is perfect, but at least you can be armed with the latest research when you feel yourself about to lose your temper. After all, you just want to do what's best for your little ones.