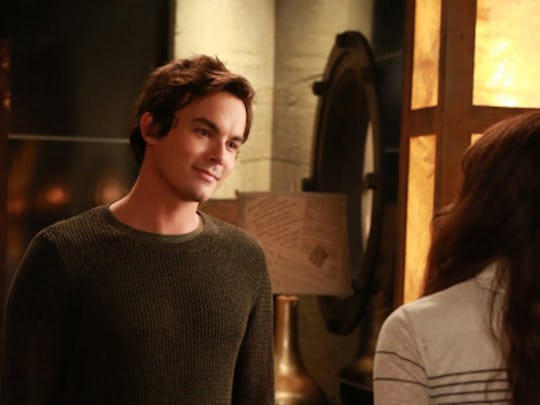 Freeform
Spencer & Caleb Are Officially Together & 'PLL' Fans Are Not Happy About It
The only certain thing happening on this season of Pretty Little Liars is that Spencer and Caleb are officially together. On Tuesday night, Spencer woke up at Caleb's place — and PLL fans on Twitter were clearly not happy. Spencer talked to Hanna about possibly breaking the girl code, and Hanna seemed to approve of it of course... but something about her face when she looked at her Caleb screensaver last week (and the way Spencer lied about where she had woken up in the morning) just made it all feel oh-so-sneaky.
Adding fuel to the awkward fire was Spencer's unnatural behavior at work the morning after, and the fact that she ignored Caleb's attempts to face the reality of what they had done the night before. But they're all grown ups now. It's five years into the future and all four parties in this love square (that's a thing) have moved on from high school. And Hanna is engaged anyway, so she shouldn't mind, right? Besides, the chemistry is totally there. Who doesn't want an S.O who promises you the first cup of coffee?
That being said, there are still lots of obvious problems. Hanna hasn't set a wedding date and she was still sort of settling into her comfy engagement this episode, even if it didn't make her "spin and twirl." Then there was Toby with his puppy dog eyes when Caleb lied to him about his new fling.
If you think that's confusing, don't worry — PLL fans are so not feelin' this new development either, for several reasons.
It's Just So New
SPOBY + HALEB 4EVER
Moving on is one thing, but the girls can't even admit to themselves that they've moved on for good. There are so many ways Spencer and Caleb could go. No one seems to be completely over their high school exes. Even perpetually-put-together Spencer shook on Tuesday night when she saw Toby in person.
Sure, it's normal for things to go on in real life. But why can't everything just stay the same in Rosewood?