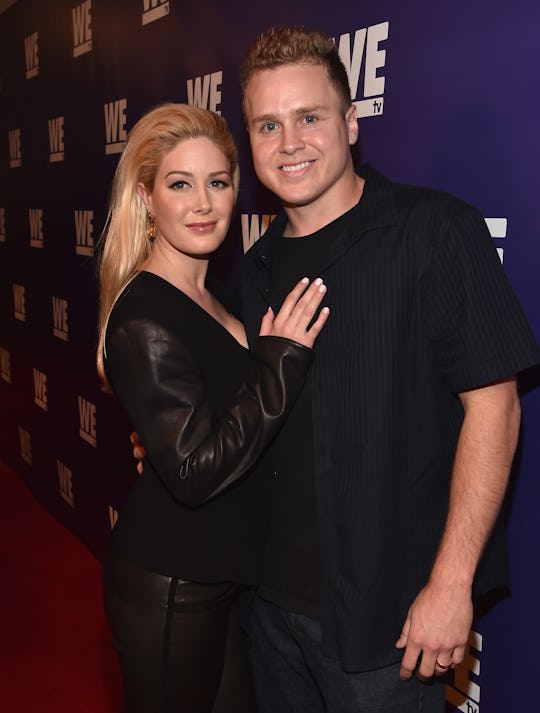 Alberto E. Rodriguez/Getty Images Entertainment/Getty Images
Spencer Pratt Hints That Heidi Could Be Pregnant Again In The Most Confusing Statement
Reality stars Spencer Pratt and Heidi Montag were beyond thrilled when they announced the arrival of their son, Gunnar, in October 2017, but from the sounds of it, they definitely aren't wasting any time when it comes to expanding their family. In an interview with TMZ Monday, Spencer Pratt hinted that Heidi might be pregnant again, and while it's not entirely clear if that was exactly what he was intending to say, he at least seems totally ready to have another child as soon as possible.
In his chat with TMZ, Pratt gushed about his life as a new dad, and joked about being peed and puked on by his infant son (we've all been there). But then he seemed to insinuate that Gunnar had a sibling on the way: Pratt said that fatherhood has been "a lot of fun," and added, "we're going to have another one like, in nine months I think, yeah I think so." While I honestly can't imagine that many women would feel ready to get pregnant again only four months out from giving birth, if his comment means what I think it means, then Pratt has basically just revealed to the world that Montag is very newly pregnant.
There are, of course, a few reasons why it's still unclear whether Pratt was actually making a pregnancy announcement, or whether he was just indicating that he'd like to have another baby ASAP. For one, although it's certainly possible to get pregnant at only four months postpartum, it is pretty soon, both emotionally and physically. It takes a while for a woman's period to return after getting pregnant, for example, and while it can return as soon as four weeks after giving birth, according to What To Expect, women who are exclusively breastfeeding might not get a period for up to 24 weeks (or possibly even later), since breastfeeding can suppress ovulation. But, periods do return between six to 12 weeks after delivery for those who haven't breastfed, which does mean that another pregnancy isn't completely out of the question for Pratt and Montag, especially if they were specifically trying to conceive.
But just because it's possible, doesn't necessarily mean it's a good idea. According to the March of Dimes, getting pregnant too soon after giving birth actually increases the likelihood of pregnancy complications, for both the baby and the mother. Women who get pregnant sooner than 18 months postpartum are more likely to have premature or low birth weight babies, which can lead to a variety of health issues, and potentially a long-term hospital stay. Babies born within 12 months of the mother's previous pregnancy may also be at a higher risk of for autism, according to the Mayo Clinic, and beginning a pregnancy within six months of giving birth also increases the baby's risk for congenital disorders and schizophrenia.
That's not all though: women who have pregnancies close together may also not have had enough time to fully heal from their first birth, and their bodies could be depleted of important nutrients needed for a healthy pregnancy, like folate and iron, which help prevent birth defects. They could also be at a higher risk for dangerous complications like placental abruption, according to the Mayo Clinic, where the placenta actually detaches from the uterine wall before delivery.
The other reason why Pratt's comment may not actually be referring to an already-established pregnancy though? It usually takes a little while before women find out they're expecting — and even then, most couples choose not to reveal the news right away. Self reported most women learn they are pregnant four to six weeks into their pregnancy, though some women don't know until later (particularly if they have irregular periods and aren't exactly sure what constitutes as "late"). And though a full-term pregnancy technically lasts around 10 months, if Pratt and Montag were having a baby in nine months, they would have likely only just figured out they were expecting again before Pratt spilled the beans.
He could just be a really excited second-time-dad-to-be, of course, but given that Pratt and Montag didn't announce their pregnancy with Gunnar until she was already about three or four months along in April 2017, according to Us Weekly, it seems like they would probably want to keep their second pregnancy under wraps for a while too.
With someone like Spencer Pratt, it's never completely clear whether he is being serious, or whether he's just stirring up media speculation. But if he and Montag do have another baby on the way, then it's definitely an exciting update. Since neither Pratt nor Montag have commented yet on the rumor though, it seems like all we can do is wait and see.