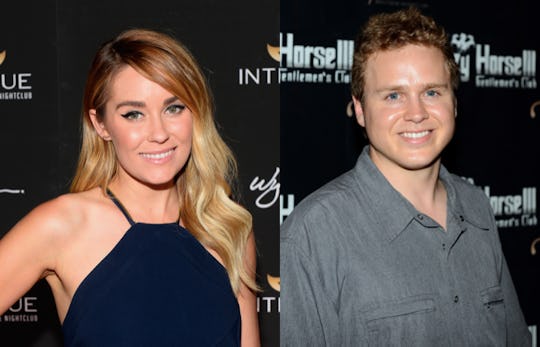 Bryan Steffy/Stringer/Getty, Ethan Miller/Staff/Getty
Spencer Pratt Threw Serious Shade At Lauren Conrad For Her Son's Halloween Costume
Anyone who's ever watched The Hills knows that co-stars Lauren Conrad and Spencer Pratt definitely do not get along. (In case you missed it, here's the SparksNotes background: once upon a time, Pratt allegedly started a rumor that Conrad and her then-boyfriend had an alleged sex tape, sparking a media frenzy and effectively ending their friendship.) It's now been nearly a decade since Conrad left The Hills after the scandal, but Pratt's still not ready to let bygones be bygones. Pratt threw shade at Conrad's son's Halloween costume on Sunday, and Conrad fans are all collectively shaking their heads at the move.
Update: In an email statement to Romper, Pratt said he meant for the tweet to be a joke.
Previously: Conrad recently posted a picture of herself and her son at a pumpkin patch, with 3-month-old baby Liam dressed in a little lamb costume. The Instagram shot was, of course, absolutely adorable, and Conrad captioned it with, "This little lamb had his first trip to the pumpkin patch today."
In typical Conrad style, the picture was artsy and well-shot and way too cute, so of course it got picked up by news outlets. On Twitter, Who What Wear tweeted an article about the costume, captioned with, "Could Lauren Conrad have picked a cuter Halloween costume for her baby?"
It was a rhetorical question, of course, but Pratt decided to retweet the tweet, answering the question with a simple "yes."
In a separate tweet — in response to a fan's comment that she lived "for salty Spencer" — Pratt continued: "im jus saying she tech [sic] could have picked cuter." (Oh, come on, Pratt, that costume was insanely cute.)
Conrad hasn't really spoken up about Pratt and his wife, Conrad's former best friend Heidi Montag, since the group split ways, other than to explain why she left their wedding early (she had another event to get to, and her life had moved on, she told E! News simply).
Pratt and Montag, however, have been very open about their relationship with Conrad, with Pratt calling Conrad a "cold-hearted killer" in an interview with Complex in 2015. Conrad didn't add any comments. Earlier this year, while Montag was pregnant with her and Pratt's first child, Montag told E! News that Conrad "obviously" hadn't reached out to her, adding that the friendship was "long gone" but that she wished Conrad the best.
Conrad didn't respond to any of the previous comments from Pratt and Montag, and she's refrained from responding to Pratt's comment about her infant son's costume. Fortunately, Hills fans on social media stepped in to react to Pratt's criticism all on their own. While several seemed to find his comment funny, many seemed to think a baby was the boundary Pratt shouldn't cross.
In 2015, when Cosmopolitan asked Conrad if she had any thoughts on Montag's comments about her and their relationship, Conrad simply glazed over the question. "No. I'm not really involved in that anymore," she said. "I don't think it has anything to do with me. You just have to focus on the good people in your life." In other words, she's moved on, and she's probably no longer reading Pratt's comments about her life.
Pratt and Montag only just welcomed their first son, Gunner Stone, into their own lives on Oct. 1, so hopefully — now that everyone is starting families and about to get real busy — the entire Hills group can move on from this entire decade-old drama. After all, they now all have their own children to focus on, which should be exciting enough for them to let bygones be bygones — and let cute kids look adorable in costume without criticism.
Watch Romper's new video series, Romper's Doula Diaries:
Check out the entire Romper's Doula Diaries series and other videos on Facebook and the Bustle app across Apple TV, Roku, and Amazon Fire TV.