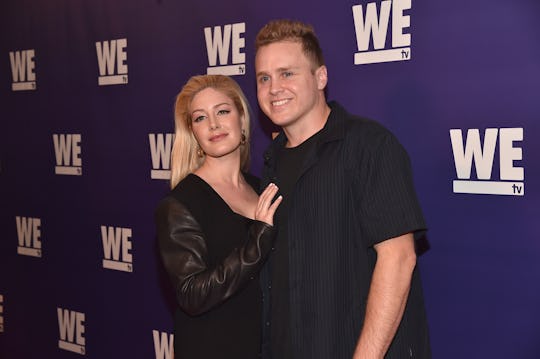 Alberto E. Rodriguez/Getty Images Entertainment/Getty Images
Spencer Pratt's Shares Pics Of Heidi Montag's Pregnancy
They once made a living by being the reality TV couple everyone loved to hate. But The Hills stars Spencer Pratt and Heidi Montag have seemed to have entered into a new stage of life, eschewing their formerly extravagant tabloid lifestyle for a quiet beach home, and preparing to welcome their first child into the world after eight years of marriage. The couple recently announced that they are expecting, and it seems as though the social media-loving stars will likely be continuing to document the journey for their fans. And judging by Spencer Pratt's photos of Heidi Montag's pregnancy, it looks like they are really looking forward to it.
Following the announcement of their pregnancy, photos of Montag and her growing belly have started popping up on Pratt's Snapchat account. In one of the latest photos, Pratt shared a snap of his wife in the driver's seat of her car, along with the words "prego problems," according to The Daily Mail (maybe she'd reached the point where buckling up the belly was becoming an issue?), while in another, Pratt shared a photo of his wife cradling her bump. But the expectant mom looks like she still has a long way to go before she gives birth — on Wednesday, Pratt and Montag stopped by the Taco Bell Test Kitchen according to Entertainment Tonight, and Montag's belly was barely visible.
The past few years have been an interesting ride for a couple that once seemed to be on every magazine cover. For one, they actually went broke in 2013. In an interview with In Touch, Pratt and Montag said that they'd spent about $10 million in earnings thanks to their lavish lifestyle — with Pratt admitting that, at their height of their fame, they "thought [they] were Jay Z and Beyoncé." These days the couple lives rent-free in a Santa Barbara vacation home belonging to Pratt's parents, according to People, and supports themselves primarily off of income from appearances on shows like Celebrity Big Brother in the UK, and Marriage Boot Camp: Reality Stars. (Pratt also told Us Weekly that he supplements their income by, uh, selling crystals online.)
But unsurprisingly, the once-powerful Speidi has managed to rise up again, thanks, in large part, to Snapchat and Twitter. According to Refinery 29, the couple spends much of their time these days sharing glimpses into their lives with their fans via social media, with Pratt sharing as many as 50 snaps a day. And people are loving it: countless tweets constantly praise the pure entertainment factor of Pratt and Montag's Snapchat accounts.
Of course, once their little one arrives — Montag is due in October, according to Us Weekly — their days of Snapchatting cappuccinos and animals might have to be traded in for diaper duty. But given their social media prowess, chances are they'll find a way to make that fun to watch, too. And so far, they certainly haven't shied away from sharing special moments they've captured on camera: In a video from Montag's first ultrasound that the couple shared with E! News, the mom-to-be can be seen in tears as she watches her growing baby on the screen.
Pratt and Montag may have come a long way from their days as Lauren Conrad's TV frenemies, but it's clear that they've still got a knack for commanding attention. And with a more settled, mature life, and a baby on the way, it seems like this year might just be the couple's best yet.