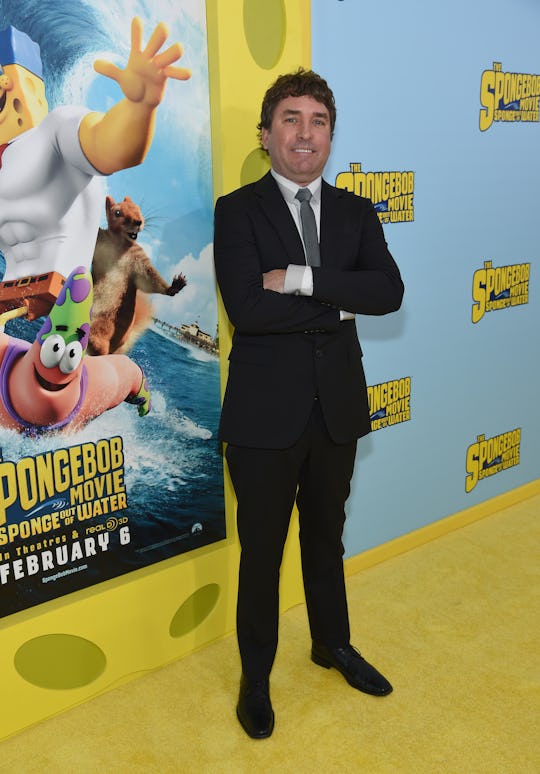 Dimitrios Kambouris/Getty Images Entertainment/Getty Images
Stephen Hillenburg, The Creator Of 'SpongeBob SquarePants,' Has Died At 57
Who lives in a pineapple under the sea? SpongeBob SquarePants! Absorbent and yellow and porous is he? SpongeBob SquarePants! Can't help singing along? Then you might be a fan. Whether you watched it as a kid or watched it with your kid, you know just how much this little square sponge touched lives. SpongeBob SquarePants creator Stephen Hillenburg has died and fans everywhere are paying tribute all over Twitter.
Hillenburg died of ALS on Monday, Nov. 26 at the age of 57.
Spongebob SquarePants defined a generation and in some cases he's just as recognizable as Mickey Mouse. The first episode aired in 1999 and Nickelodeon just renewed the show for its twelfth season. And it's a special year, as 2019 is also the shows 20th anniversary, according to Entertainment Weekly.
Saying that Hillenburg and SpongeBob and the whole Bikini Bottom crew had a big effect on generations of kids is simply an understatement. People across Twitter are struggling to put this loss into words.
Nickelodeon also released a statement, as reported by Deadline:
We are incredibly saddened by the news that Steve Hillenburg has passed away following a battle with ALS. He was a beloved friend and long-time creative partner to everyone at Nickelodeon, and our hearts go out to his entire family. Steve imbued SpongeBob SquarePants with a unique sense of humor and innocence that has brought joy to generations of kids and families everywhere. His utterly original characters and the world of Bikini Bottom will long stand as a reminder of the value of optimism, friendship, and the limitless power of imagination.
Hillenburg always had a fascination with everything under the sea and that love was the inspiration for the hit show. Everyone from friend Patrick Star to coworker and neighbor Squidward Tentacles were born of his imagination and placed in the fictional world of Bikini Bottom.
In 1984, he graduated from Humboldt University with a bachelor's degree in natural resource planning and interpretation, with an emphasis on marine resources, Variety reported. After graduation he became a marine biology teacher at the Orange County Marine Institute. And, that's where SpongeBob was born. He started drawing cartoons to help the kids understand their lessons, according to Variety.
Long story short, he went to art school, started creating cartoons, and the rest is history, as they say.
In all, nearly 250 episodes of SpongeBob SquarePants have aired to date and translated into 60 different languages, according to Variety. That's a wide reach.
As if television wasn't enough, Hillenburg made the jump from small to big screen with The SpongeBob SquarePants Movie. Hillenburg wrote, produced, and directed the film, which made over $140 million world wide, according to NBC News. He went on to write and executive produce the sequel, The SpongeBob Movie: Sponge Out of Water, which was released in 2015.
The passing of Hillenburg has truly left a hole in the animation world and definitely within the hearts of fans everywhere. But, they'll never forget the wholesome, fun-loving, square, sponge that gave them so many good laughs.
This first-time mom wants to have a home birth, but is she ready? Watch how a doula supports a military mom who's determined to have a home birth in Episode One of Romper's Doula Diaries, Season Two, below. Visit Bustle Digital Group's YouTube page for the next three episodes, launching every Monday starting November 26.