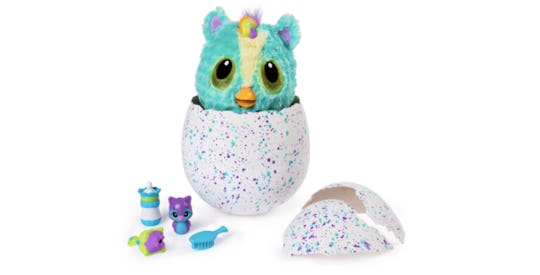 Walmart
Hatchimals Launched A New Koala Toy, & Your Kid's Gonna Want It For The Holidays
It's officially Hatch Day, and that means the wait is over for the coolest new Hatchimals straight from Hatchtopia! The brand new, squishy HatchiMallows, and Baby HatchiBabies are the newest toys to join the Hatchimals family. Spoiler alert: they are really adorable, so if you were wondering what to get your kiddos for Christmas this year, consider that problem solved: Your Hatchimal-obsessed kids will go nuts for these cute critters.
Just in time for the holidays, Spin Master, the toy maker behind the Hatchimal phenomenon, is rolling out three new HatchiBabies — Koalabee, Ponette, and Cheetree. Plus, there's a new twist: For the first time ever, you could hatch a girl or boy. A secret message reveals the cuddly creature's gender, and there's even a birth certificate to fill out. They also each come with hidden, "peel-to-reveal" interactive accessories. Cheetree, for example, comes with a rattle, bottle, hairbrush, and cuddle buddy. Of course, your little one will also have fun feeding, burping, and snuggling their lovable little HatchiBaby.
The new HatchiBabies are priced at $55 and available now at Walmart, Target, Amazon, and on the Spin Master site — though the new Koalabee is exclusively available at Walmart.
But the HatchiBabies aren't the only new addition to the Hatchifamily. There's also the new HatchiMallows 'Sweet Series' — sweet new toys that are soft, squishy, and oh-so-adorable. These mystical creatures are small enough to fit in your palm, and are perched atop their own unique sugary sweet treat. The collection includes the orange Tigrette, who sits on a pink cupcake, the green-eyed Penguala, who can't wait to eat her delicious cookie, and the baby blue Hummingbear, who hugs a yummy pink macaroon. These fun new Hatchi-Mallows are available exclusively at Walmart, both in stores and online, for just $8. Hello, stocking stuffer.
What's especially cool about the tiny, new Hatchi-Mallows is that they're made of squeezable material designed to be super fun to squish. Little HatchiFans will love smooshing them down, letting them go, and watching them slowly return to their original cute shapes! And of course, your kiddo will love taking their HatchiMallow with them everywhere they go, from the bath to bed, and everywhere in between.
You can see why these HatchiMallows would be super fun to collect, along with all the other Hatchimal critters. The toy makers at Spin Master have definitely created an entire mystical, magical world of hatch-able fun.
So, with the holidays rapidly approaching, now might the best time to stock up on these Hatchimal cuties. You know that when Black Friday and Cyber Monday come around, these things will be flying off the shelves faster than you can say, "Hatch!"
I personally can't wait to get my hands on one of the plush babies for my oldest daughter and some of the squishy 'Mallows for my youngest one. Something tells me that from here on out, Hatchimals will be topping all of their birthday and Christmas lists, and probably filling Easter baskets, too. You have to admit, they're hard to resist.