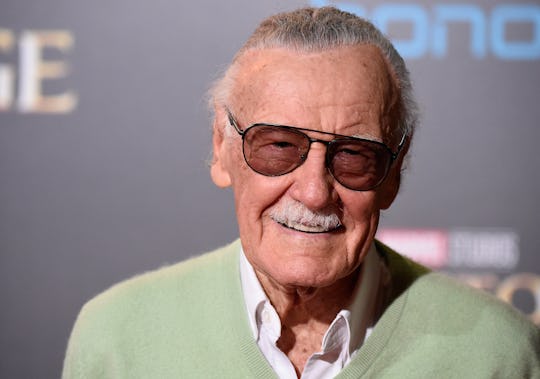 Frazer Harrison/Getty Images Entertainment/Getty Images
Stan Lee, The Iconic Face Of Marvel Comics & Creator Of Spider-Man, Has Died At 95
It is a sad day for entertainment fans everywhere. The iconic Stan Lee has sadly died after 95 incredible years of life, as confirmed by The Hollywood Reporter. At the time the news of Lee's passing broke, it was unclear what his exact cause of death was. TMZ has reported that Lee died on Monday, Nov. 12, after being rushed to the hospital via ambulance. In addition to that information, the Associated Press tweeted out that the news had been confirmed by Lee's family attorney, as you can see below.
In the months before his death, Lee had announced a partial retirement from the spotlight. The man who created so many iconic comic book characters for decades revealed he would no longer be attending or participating in any fan conventions or public signings in August 2018, as reported by Bleeding Cool. According to Getty Images, Lee's final public appearance was on the red carpet for the Avengers: Infinity War premiere in April. Photos from the event show Lee in good spirits, showing off his signature Spider-man web slinging hand gestures and greeting fans from all over the world.
As previously mentioned, Lee spent the majority of his career writing comic books and creating some of the most iconic superheroes and villains to date. Included in that endless list of character are Iron Man, the Hulk, Doctor Strange, Black Widow, The Punisher, Mary Jane Watson, Gwen Stacy, Doctor Doom, Ant-Man, Captain Marvel, and so many more, according to Wikipedia. Once Lee's characters started moving off of the comic book page and onto television sets and movie screens all over the world, the creative mastermind became a fan favorite cameo in dozens of comic-to-screen projects.
In the early 1980s, Lee was the narrator for the television series, The Incredible Hulk. In the year 2000, Lee appeared as a hot dog vendor in The X-Men movie, and then went on to appear in Spider-man, Daredevil, Hulk, Guardians of the Galaxy, the Avengers, and more Marvel movies based off of the characters he created, as show on his IMDb.
It didn't take long for the "#RIPStanLee" tag to start trending on Twitter, where fans, filmmakers, and celebrities alike shared their grief over his passing.
Some fans paid tribute to Lee by using his own words, including one very poignant quote from Spider-Man 3, which starred Tobey Maguire. "I guess one person can make a difference," many fans wrote on Twitter along with images of Lee. Though the line in the movie was about Spider-Man, it's clear that fans are now pointing out Lee is but one man, but made a huge difference in so many ways.
Lee is survived not only by the characters he created and the stories he gave to the world, but also his daughter, J.C., and his brother, Larry Leiber, as reported by THR. The creator was married for 60 years to his wife, Joan Lee, who sadly passed away just a year before he did.