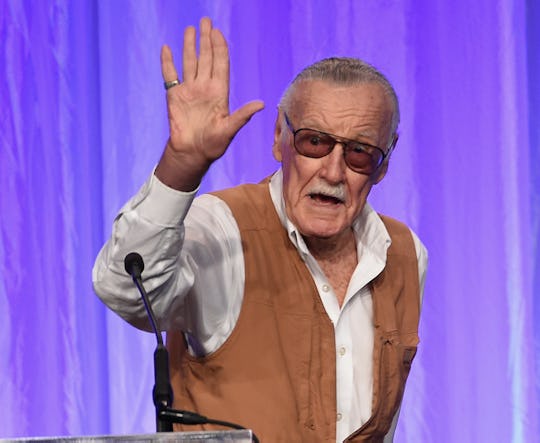 Kevin Winter/Getty Images Entertainment/Getty Images
Stan Lee's Best Marvel Cameos Show The Comic Book Titan's Legacy Will Live On
On Monday, Nov. 12, the world lost a beloved Marvel Comics writer, editor, and publisher. Stan Lee died Monday at the age of 95. Marvel Comics fans know Lee as the person (or one of the people) behind characters such as Spider-Man, the X-Men, Black Panther, the Incredible Hulk, Iron Man, the Fantastic Four, Thor, and more. However, he's also made quite a name for himself in recent years thanks to his epic cameos. And even though he's gone, Stan Lee's best Marvel cameos show the comic book titan's legacy will live on forever.
On Monday morning, Lee was taken by ambulance from his Los Angeles residence to Cedar's Sinai Medical Center, where he later died, CNN reported. The cause of his death is still unknown, according to an attorney for Lee's daughter. As news of Lee's passing quickly spread, celebrities and regular folks alike took to Twitter to offer tributes and express their condolences. In doing so, plenty of fans took the opportunity to share their favorites among Lee's epic resume of cameos. Because according to Insider, he managed to rack up a whopping 56 of them. So without further ado, I present to you the best of the best Stan Lee cameos.
Spider-Man (2002)
As Indie Wire reported, Lee popped up in the 2002 movie Spider-Man as a shocked member of a crowd who saved a little girl from falling debris. (Courtesy of the Green Goblin.) Like most cameos, it's definitely brief. It's brief, but undoubtedly heroic.
Spider-Man 3 (2007)
Lee actually had a speaking part during his cameo in 2007's Spider-Man 3. As Peter Parker was reading a bulletin about Spider-Man in Times Square, Lee stops next to him and says, "You know, I guess one person can make a difference. Enough said."
The Amazing Spider-Man (2012)
As Spider-Man and The Lizard are dueling in the background, Lee can be seen jamming to classical music — totally oblivious to the battle going on behind him. It's basically the best kind of cameo.
Iron Man (2008)
If you blink, you'll miss his cameo in Iron Man. Tony Stark mistakes Lee — who is standing next to two significantly younger women — for Hugh Hefner, according to Business Insider. LOL.
Thor (2011)
For his Thor cameo in 2011, Lee is driving a pickup truck — with a chain attached to it — in an attempt to dislodge Thor's hammer from the ground, according to Indie Wire. "Did it work?" he says, after the weight of the hammer rips off the truck bed altogether. Um, yeah. That's gonna be a "no."
Big Hero 6 (2014)
Lee didn't physically make a cameo in the animated film Big Hero 6, but eagle-eyed fans definitely spotted him. That's because he was Fred's father, according to Insider.
Deadpool (2016)
Lee showed up as an emcee at a strip club during 2016's Deadpool. Which is about as epic as a cameo can get, if you ask me.
Clearly, Stan Lee has made his mark in entertainment history — even though at one point, he didn't consider that to be much of an accomplishment. "I used to be embarrassed because I was just a comic-book writer while other people were building bridges or going on to medical careers," he told The Washington Post. "And then I began to realize: Entertainment is one of the most important things in people's lives. Without it they might go off the deep end. I feel that if you're able to entertain people, you're doing a good thing."
For the record, I have a feeling that Lee's Marvel cameos won't be ending anytime soon. That's because in several movies, his "cameo" was nothing more than a photograph hanging on a back wall — something that could easily be incorporated in future films. In the meantime, though, my thoughts are with Lee's family, friends, and fans as they grieve his death. May his memory live on through them and through his Marvel legacy.