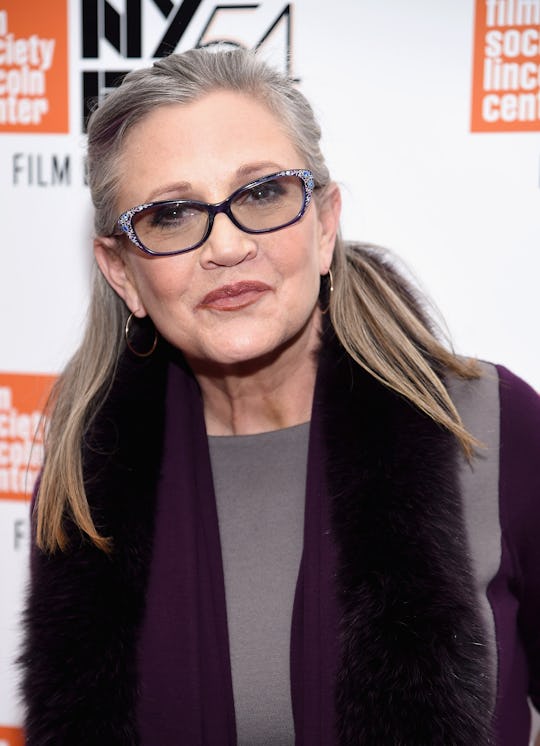 Dimitrios Kambouris/Getty Images Entertainment/Getty Images
Star Wars Co-Stars React To Carrie Fisher's Death
Apparently, 2016 will not stop until every single person on Earth is completely and utterly hopeless. The year that brought more tragic celebrity deaths than one could possibly handle has claimed the life of iconic actress Carrie Fisher, best known for her role in Star Wars as Princess Leia Organa (and later General Leia Organa). Fisher's daughter, actress Billie Lourd, confirmed her mother's death on Tuesday morning through a statement to People, and Star Wars co-stars reactions to Carrie Fisher's death are moving and profound.
On Friday, Fisher went into cardiac arrest while on a flight from London to Los Angeles, TMZ first reported. Witnesses said that the actress had stopped breathing 15 minutes before the flight landed, and fellow passengers aboard the United Airlines flight administered CPR before paramedics rushed her to the hospital upon arrival. Bystanders at LAX airport told TMZ that Fisher appeared to be unconscious. Through family spokesman Simon Halls, Lourd communicated that Fisher passed away at 8:55 on Tuesday morning. "She was loved by the world and she will be missed profoundly," she said. "Our entire family thanks you for your thoughts and prayers." Fans and costars alike had been asking for prayers for Fisher since the incident on Friday.
Sadly, the collective prayers of the entire galaxy weren't enough, and now the world mourns the loss of Disney's most beloved princess. Costars new and old took to Twitter to pay tribute to their fallen fellow rebel.
Indeed, it seems that everyone who worked with Fisher is in mourning today. Tina Fey issued a statement to Time regarding Fisher's death on Tuesday afternoon:
Carrie Fisher meant a lot to me. Like many women my age, Princess Leia occupies about sixty percent of my brain at any given time. But Carrie's honest writing and her razor-sharp wit were an even greater gift. I feel so lucky that I got to meet her. I'm very sad she is gone.
Fisher guest-starred on Fey's show, 30 Rock, as Fey's childhood idol in 2007. The appearance earned Fisher her first Emmy nomination. And she wasn't the only Star Wars fan who grew up to cast Fisher in her own show. Seth MacFarlane, the Family Guy showrunner who cast Fisher as Peter Griffin's boss, Angela, tweeted his own tribute.
Fisher touched so many lives, and she'll be remembered not only for her role as Leia Organa, but as a bestselling author of both novels and memoirs, the star of a hit one-woman show, a tireless mental health advocate, and devoted mother to both Lourd and her beloved French bulldog, Gary. She will be deeply missed.