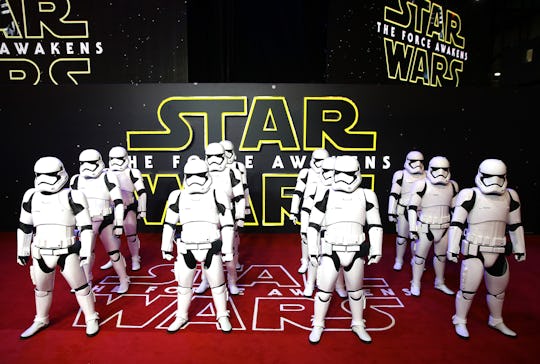 Getty Images
'Star Wars' Stormtroopers Attended a White House Press Conference, Proving Literally Everyone Is Obsessed With The Film
Barack Obama's White House is pretty cool, no matter what you think of his politics. On Friday, actual Stormtroopers were at a White House press conference. So, it's official that Stars Wars mania is out of control. I mean, Stormtroopers? At a Washington press briefing? The force is definitely with the administration, huh?
But wait, there's more — President Obama said he was cutting his press conference short because he was going to go catch a special screening of the film, riffing, "this is not the most important event that's taking place at the White House today." Because, Star Wars, of course.
It's sort of adorable that with all the crazy chaos in the world, the President might take a couple of hours for a Friday movie date. Of course, people on social media are giving him a tough time for the joke, saying that there are more important things to be doing other than watching the new J.J. Abrams-directed installment of the world's favorite series. But Obama's not superhuman. Dude deserves a break! Or, at least, deserves to joke about taking a break.
So, Barack, do you like lots of butter on your popcorn or do you like loads of butter on your popcorn?
Image: Chris Jackson/Getty Images