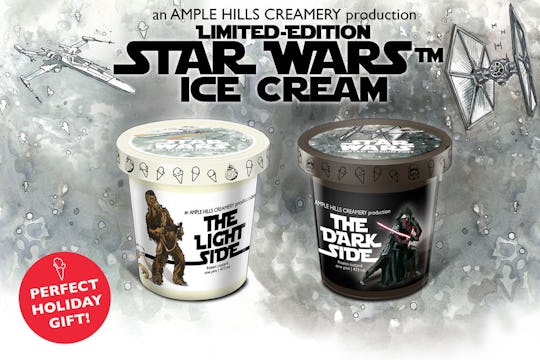 Ample Hills Creamery
'Star Wars: The Force Awakens' Gets Ample Hills Ice Cream Flavors, & 5 Other Ways to Celebrate The Upcoming Film
Are you on the light side or the dark side of the Force? Now you can eat to show your allegiance with special edition Star Wars ice cream flavors from Brooklyn's Ample Hills Creamery. For only $36, you can order a four pack of your favorite in collectable pint packaging decked out with characters from Star Wars: The Force Awakens.
Creamery co-owner Brian Smith told Entertainment Weekly that he thinks the Star Wars collaboration is seriously sweet:
As a sci-fi writer in my past professional life, and a longtime Star Wars fan, this is a dream collaboration. And to be able to work with Lucasfilm and Disney Consumer Products to create new ice cream flavors that represent the two sides of The Force… that might just be the coolest thing we've ever done.
Ready to choose your flavor? If you're a Yoda/Skywalker/Chewbacca fan, you may want to opt for Light Side: expect a marshmallow flavor packed with crispie clusters and cocoa crispies. If the Dark Side is more your style, try the chocolate flavor filled with espresso fudge brownies and cocoa crispies. There's also lovely reasoning behind the smattering of white chocolate pearls in the ice creams. According to the Ample Hills website, they "represent the light still hiding in the dark, waiting to burst through." When you're finished with your ice cream, here are 5 other ways to celebrate the film leading up to its release on Dec. 18:
Play Star Wars Battlefront
Put the kids to bed and steal a few hours of Xbox or PS4 for yourself. The Battle of Jakku (available Dec. 1 for pre-orders, Dec. 8 for everyone) includes a new mode and two maps; you'll get to feel what it's like to be a part of the events leading up to The Force Awakens.
LOL At SNL
Leslie Jones auditioning for Star Wars is everything.
Play With Legos
Build the Millennium Falcon on your living room floor. You can plow through the challenging parts, then hand it off to older kids for additional assembly while you prep for a holiday party.
Plan Your Opening Weekend Look
If a full costume feels like too much, try showing your light or dark side spirit with CoverGirl's new line of Star Wars cosmetics.
Have A (Low-Key) Lightsaber Battle
Photo op: When Grandpa and Grandma comes over for the holidays, hand them a lightsaber and invite them to "train" your little jedi.
Image: Ample Hills Creamery