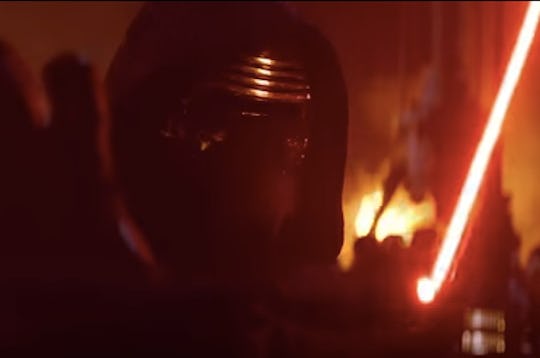 Walt Disney Studios
'Star Wars'-Themed Google Feature Lets You Customize Apps According To What Side Of The Force You're On
If you're anything like me, you have Dec. 18 boldly marked on your calendar in eager anticipation of the newest addition to the Star Wars series: The Force Awakens. But even if you don't, you can't really avoid the movie, since it's plastered all over... well, basically everywhere. But try to contain your excitement if you can, because Google just unveiled new Star Wars-themed customization today as part of their Star Wars: The Force Awakens campaign, which will allow us all to customize our apps and browsers to reflect which side of The Force we're on. (Yes — it really is that cool.)
On the company's official blog Monday, Google announced their partnership with Lucasfilm and Disney to create an ideal way for Star Wars enthusiasts to show whether they align specifically with the Light or Dark side. Unveiling google.com/starwars, the company explained "starting today you can choose the light or the dark side, and then watch your favorite Google apps like Gmail, Google Maps, YouTube, Chrome and many more transform to reflect your path." But that's not all. Google says there will be a few surprises on the way — though they do hint that the Millennium Falcon will be involved before opening night. The blog post also outlined how the company came about this ingenious promotion:
'Wouldn't it be cool if there was some sort of Star Wars thingy in Search? The Millennium Falcon in Cardboard would be sweet! What if Google Translate could decipher galactic languages?'... and on, and on, and on. As this list of ideas grew, so too did the band of passionate engineers and product folks who wanted to build them.
So, how does it work? The experience begins by using your Google account and picking a side. From there, you'll be able to explore a ton of Star Wars-themed apps that many of us use on a daily basis. Cool, right? And if you have a change of heart — like most of us probably will — don't worry. There's always a chance to change your allegiance.
And even though this was just unveiled today, lines have already been drawn in the Twittersphere:
So only one question remains: Which side are you on?
Images: Walt Disney Studios; Giphy