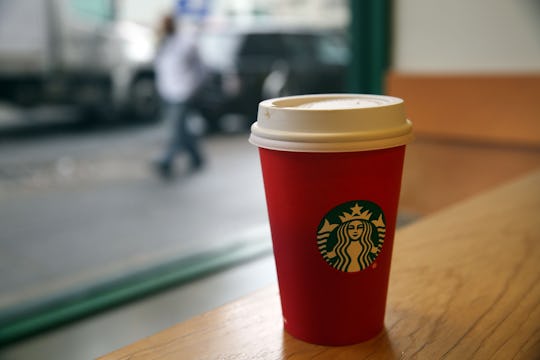 Starbucks Has A New Drink & It Sounds Like The Perfect Cure For Post-Holiday Blues
Now that the holidays are over, it's back to the same-as-usual routine, and the people over at Starbucks know exactly what people need for that kick back into high gear: A delicious new Starbucks drink, the Latte Macchiato, is arriving in stores on Jan. 5. According to the Starbucks website, aficionados can expect their new drink to feature espresso shots combined with "steamed whole milk that is perfectly aerated and free-poured creating dense foam reminiscent of meringue." The tasty beverage is being introduced at Starbucks stores in the U.S., Canada, and "select locations" in Latin America.
The new beverage, which Starbucks said has an "intensely bold and roasty flavor," is the latest addition to Starbucks' line of espresso beverages, which also includes the Doppio Espresso, Caffe Americano, Flat White, Cappuccino, and Caffe Latte. Starbucks has proven that there's more than one way to make an espresso, and there's certainly more than one way to combine cappuccino with tasty, frothy milk. It seems that a prominent feature of the Latte Macchiato is the conspicuous, aesthetic layering of milk, coffee, and milk again. Looks rather pretty, no? The Macchiato is a follow-up to the Flat White, which was introduced last year.
Indeed, the new Latte Macchiato seems rather similar to the Flat White, which likewise features prominent layers of steamed milk combined with espresso shots. The difference seems to be in the level of sweetness, with the Flat White being sweeter and including more milk. Still, the Macchiato won't be as intense as the plain old espresso, which contains far less milk. According to Angus Maxwell, a Starbucks barista interviewed by Cosmopolitan, "anyone who likes just a bold drip coffee, maybe this is their entry into trying something with a little more milk."
Milk, lots of milk, hardly any milk at all — whatever the case, in my book, the most important ingredient is the caffeine.
Images: Spencer Platt/Getty Images; Giphy