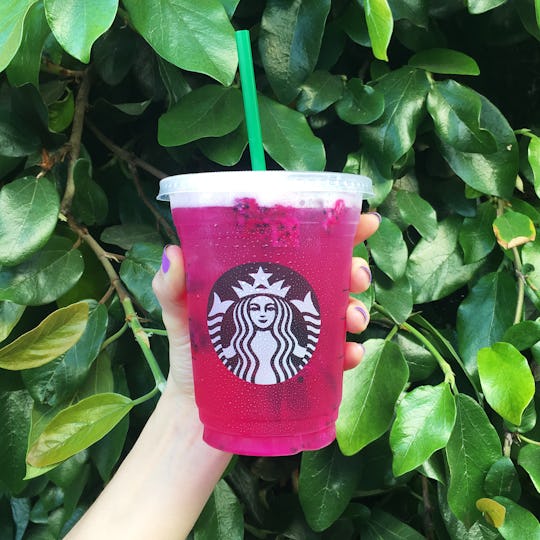 Starbucks
OMG, Starbucks Has A "Dragon Drink" Now & It's Seriously As Cool As It Sounds
We've all been there. 3:00 rolls around and your eyelids start drooping, your vision blurs, and you wonder if it's possible to fall asleep with your eyes open. "Just resting my eyes," you say when you're caught in the act. Uh huh. Caffeine is the obvious answer, but what if you hate coffee? Lucky for you, Starbucks just added a new flavor to its line of refreshers — the fruity, icey drinks we know and love.
Say hello to Starbucks' Mango Dragonfruit Refresher, the tropical treat that will make your afternoon coffee run feel more like a vacation. The best part? The use of green coffee extract means refreshers pack a caffeinated punch without the bitterness of traditional coffee. A grande delivers about as much caffeine as a half a cup of coffee, plus it's only 90 calories, so it will perk you up without making you feel too blah. And while its bright magenta hue might look like a color only Crayola could create, the drink is made without artificial colors or sweeteners. Instead, it gets its good looks from real dragonfruit. Talk about natural beauty.
The Mango Dragonfruit Refresher is here just in time for summer and will be a permanent menu item, so you don't have to worry about kissing your soon-to-be favorite drink goodbye just because the season changes (ahem, Pumpkin Spice Latte). It joins classics like the Cool Lime, Very Berry, and Strawberry Açai refreshers. Any of the flavors can be customized ( in fact there are 170,000 ways to customize a Starbucks drink, to be exact), but one such way will make it particularly photogenic, not to mention delicious.
If you've ever seen one of those infamous pink drinks on Instagram and wondered what you have to do to get your hands on one, look no further. Turns out being an Instagram influencer isn't a prerequisite for gaining the secret recipe. All you have to do is order a refresher with coconut milk, according to Delish. The barista will use the same base as a regular refresher, but replace the water with coconut milk, leaving you with the creamy, fruity, Insta-worthy drink of your dreams. What you'll get is a beverage that looks reminiscent of the strawberry milk of your childhood, but with the caffeine dose that your adult lifestyle craves. It's almost too pretty to drink. (Keyword: almost).
If you fear uttering "venti mango dragonfruit refresher with coconut milk" will elicit eye rolls from those who prefer their coffee orders under 10 syllables, fear not. Starbucks has dubbed this variation the "Dragon Drink." Because how cool does ordering a dragon drink sound? And yeah, we know that the name stems from the featured fruit, but feel free to tell yourself (or your kids for that matter) that it's called the dragon drink because it gives you magical powers. After all, sometimes a little caffeine is all that stands between feeling like a fire breathing dragon and being ready to tackle the day.
And while you're having your obligatory photoshoot with your drink, go ahead and use the hashtag #AfternoonMade for a chance to be featured on the official Starbucks 'gram. Each Friday, Starbucks will look through the hashtag and choose a customer photo to feature on their Instagram story. Who knows, maybe what started as an afternoon craving will lead to Instagram fame.
Even for those of us who love coffee (myself included), this new drink provides a cool alternative for those summer days when the thought of a hot beverage is about as appealing as going to the beach in sweatpants and a sweatshirt. And before you say, "but, you could just order iced coffee," remember the one thing iced coffee comes with that a refresher doesn't: coffee breath. Choose this sweet alternative and feel cool, awake and refreshed. Happy dragon sipping.