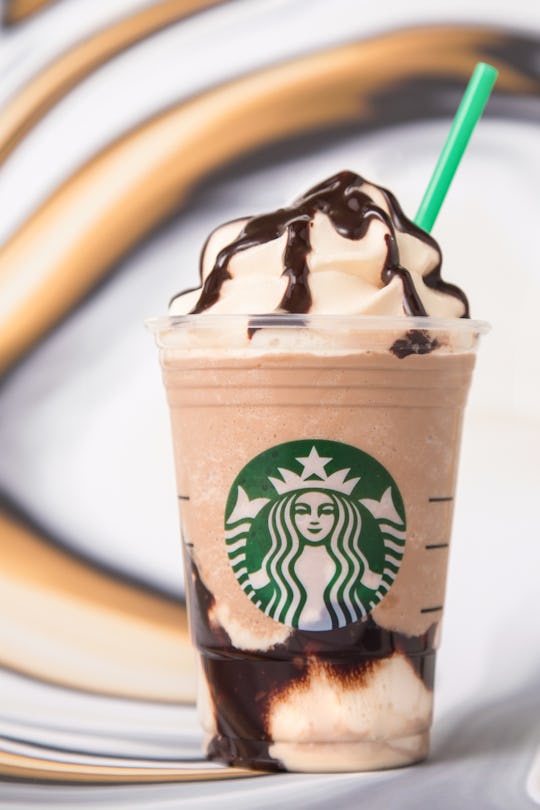 Starbucks
OMG, Starbucks' New Frappuccinos Include Caffeinated Whipped Cream & I Can't Take It
Starbucks' Frappuccinos are iconic, and there's always been a rotating cast of fun seasonal flavors to choose from. (Hello, Macadamia!) But the base menu never really changes, right? Wrong. Just in time for summer, Starbucks added two new Frappuccinos to the permanent menu, and they both involve a caffeinated whipped cream stolen straight from your wildest fantasies. It's also a historic day in coffee history, because, according to PopSugar, Starbucks hasn't made a permanent addition to the Frappuccino menu in 16 years, which means these new flavors are likely here to stay. Basically, these are the Frappuccinos your toddlers will be drinking — when they're teenagers with robot cars.
The brand-new Ultra Caramel Frappuccino and Triple Mocha Frappuccino are both enhanced versions of beloved classics. Essentially, they're caramel and mocha Frappuccinos re-imagined with "extra texture, beautiful layers, and tons of flavors," according to a Starbucks press release.
Both frapps begin and end with a layer of Sweet Cold Brew Whipped Cream — that's whipped cream infused with cold brew and flavored with white chocolate and dark caramel syrup. Between these layers, the Ultra Caramel Frappuccino is the caramel frapp you know well, accentuated with a swirl of the new dark caramel sauce, while the Triple Mocha is familiar mocha coffee, intensified with mocha sauce. Both drinks are also offered in bottled form, for those who like to take their Frappuccinos on-the-go, and don't care that they're totally doing it wrong.
However, arguably the biggest difference between these new offerings and the Frappuccinos of my adolescence is in the whip. Food & Wine described the Sweet Cold Brew Whipped Cream as "a coffee-hinted cloud," which I'm fervently hoping will soon appear in canned form, so I can spray it directly into my mouth. Truly, this is iced coffee living its best life. In case you were wondering, you can also add this caffeinated whip to any Starbucks drink, hot or cold, for 50 cents.
Would a Frappuccino by any other name taste as sweet? The first Frappuccinos were tested in 1993, in a store in Santa Monica, but they weren't called Frappuccinos until 1994. (Starbucks adopted the name from a Boston coffee shop they acquired called The Coffee Connection.) According to Starbucks, the name is meant to evoke "the cold of a frappe and the coffee in a cappuccino." Coffee and mocha were the first flavors introduced nationwide, and the blended beverages spread like an icy wildfire. Since then, Starbucks has rolled out dozens of flavors, from American Cherry Pie to the now-infamous Unicorn, reported Refinery 29.
If you love taste-testing the limited-time offers, you should know that Starbucks' new focus on permanent menu additions means they'll be cutting back on such caffeinated experiments by about 30 percent, as Refinery 29 reported. It's also notable that these new drinks, despite looking a little like a deliciously-drippy slice of ice-cream cake, are more, shall we say, reasonable than the sparkly, bedazzled Unicorns of days past, as Refinery29 pointed out. I mean, when it comes to coffee, what's more classic than caramel and mocha? Starbucks isn't taking any risks with these menu additions, but they are upping their game with the extra sauce, and especially that luscious new whip.
If you're dying to try the new Frappuccino drinks, but are loathe to spend money on anything but your usual order, head to Starbucks on Thursday, May 3. On that day only, customers who signed up to get offers from Starbucks will receive half off any Grande or Venti Frappuccino after 3 p.m., as part of Starbucks's happy hour series. (Unfortunately, you'll only get half-off the cost, not the calories. I checked.) In the meantime, get excited for summer days. The forecast is sunny, with a chance of "coffee-hinted" clouds.
Check out Romper's new video series, Bearing The Motherload, where disagreeing parents from different sides of an issue sit down with a mediator and talk about how to support (and not judge) each other's parenting perspectives. New episodes air Mondays on Facebook.