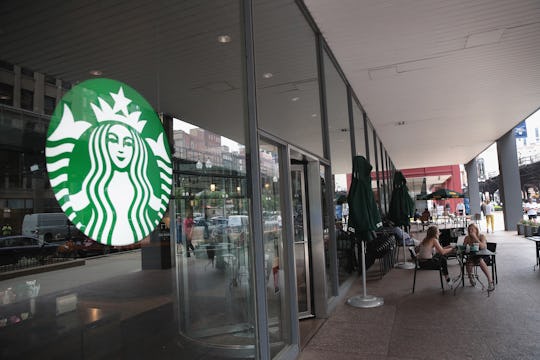 Scott Olson/Getty Images News/Getty Images
Starbucks' First Signing Store In The United States Is Officially Open
For those who aren't seasoned pros, placing an order at a coffee shop can sound like you're speaking an entirely different language. "Hi, I'd like a grande nonfat half-caf vanilla latte with an extra shot and no whip, please." The details can be difficult enough to express — and take in — for those in the hearing world. But imagine trying to communicate a complicated (or even a not-so-complicated) coffee order when you're deaf or hearing-impaired. Well, ordering a pumpkin spice latte just got easier for those in the deaf community in Washington, D.C. Because Starbucks opened its first Signing Store in the United States, and it's seriously amazing.
As USA Today reported, Starbucks opened its first U.S. shop that's staffed by people who are deaf, hearing-impaired, or hearing, and are able to communicate using American Sign Language (ASL). This first Signing Store is located near Gallaudet University, which is designed for students who are deaf or hearing-impaired. It was an existing Starbucks location that was converted into the Signing Store over the past several months.
The first-ever Signing Store was actually opened in Malaysia in 2016, according to The Washington Post — and the new Washington, D.C. store is modeled after it. Digital displays and notepads, keyboards that facilitate communication between customers and baristas, and low-glare reflective surfaces are among other deaf-friendly features at the new Washington, D.C. Starbucks.
"All the barriers are gone from being able to communicate, or from people being able to demonstrate their skills and show off the talent they have," Marthalee Galeota, senior manager for accessibility at Starbucks, said in a statement, according to USA Today. "We think this store celebrates the culture of human connection on a deep level."
In case you're wondering, the Starbucks Signing Store absolutely welcomes customers who aren't deaf, CBS News reported. "For customers new to sign language, the store will offer communication options for ordering and receiving beverages at the hand-off counter," Starbucks said, according to the outlet.
As CBS News reported, actress Marlee Matlin was one of the new Starbucks Signing Store's first customers. She tweeted about her experience in ASL through a video she shared with followers.
Plenty of other Twitter users seem to be equally excited about the new Starbucks. Journalist Caroline Patrickis tweeted, "The first @Starbucks sign language store in the U.S opened in Washington, D.C. this morning! It's amazing! There is artwork and custom merchandise made by deaf artists. Every employee is deaf, hard of hearing, or knows fluent ASL"
In honor of the new Signing Store opening, NBA player Zach LaVine shared how to say his favorite beverage in ASL. He tweeted, "My favorite drink is a hot cappuccino. What's your order in ASL? #StarbucksSigns. Congratulations on your first U.S. Signing Store, @Starbucks."
If a PSL is more up your alley, manager of the new ASL-friendly Starbucks, Matthew Gilsbach, demonstrated how to sign "pumpkin spice latte."
Another Twitter user wrote, "My mother is an #ASL interpreter, so the deaf community is extremely important to my family. So thrilled to see this initiative from @starbucks! #DeafCommunity."
Yet another person tweeted, "Great move #Starbucks! Everyone working at this location is fluent in #ASL. I hope they make this a trend they spread out through other stores. Maybe offer an increase in pay for knowing some #signlanguage to encourage or sending employees to an ASL class?"
Personally, I think the new Signing Store in Washington, D.C. sounds amazing. Even though I know hardly any ASL myself, I would totally check out a similar store if one existed in my area. Hopefully the Washington, D.C. store is just the beginning for Starbucks locations that cater to the deaf and hearing-impaired community in the United States.