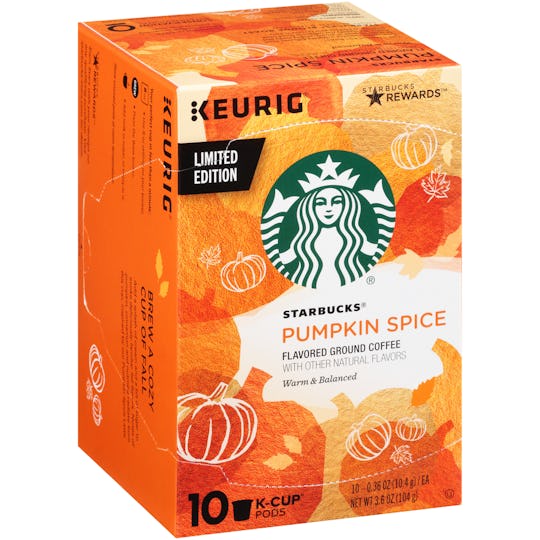 Starbucks
This Is Not A Drill: Starbucks Pumpkin Spice Latte Products Are Back In Stores
Pumpkin spice lattes have become a staple of fall — and honestly, that word doesn't even do it justice. They've become Taking Family Pictures In A Pumpkin Patch Level popular. In fact, according to the Starbucks website, "During the fall, customers express their #PSL enthusiasm with an average of more than 3,000 tweets per day." Of course, unless you're rollin' in extra cash and extra time, it's not realistic to have a PSL every day this fall. That is, until now. Ladies & gents, you can now make your own Starbucks Pumpkin Spice Latte at home, and we are so here for it.
2003 was a big year. It brought us the first episode of The O.C., Beyoncé released "Crazy in Love," and we all fell crazy in love when Starbucks released its brand new fall specialty drink, the Pumpkin Spice Latte. Fun fact: Did you know that, according to Peter Dukes, the director of espresso Americas for Starbucks, the PSL was almost called the "Fall Harvest Latte"? PSL rolls off the tongue so much easier than FHL, so... good choice, Starbucks team.
So, let's talk about making your own. A quick Google search will inevitably return hundreds (thousands?) of articles and recipes for making your own PSL with various ingredients and brands. There's nothing wrong with trying those out, but I'd rather stick with the OG that I fell in love with. Like my dad used to say.. if it ain't broke, don't fix it. So starting next week, you'll be able to enjoy your own at-home or on-the-go PSL with two brand new products and a few tried and true returners. All of these products will be available at grocery stores nationwide, so you can pick them up when you do your normal grocery shopping!
If you have a Keurig, the Starbucks Pumpkin Spice Flavored Ground Coffee K-Cups will be your jam. According to this handy-dandy Starbucks 2018 Pumpkin Spice Fact Sheet, "this cozy fall coffee is radiant with notes of pumpkin, cinnamon, and nutmeg that come to life in our lightest roast." A 10-pack of these K-cups will retail for about $10, and a 16-pack will cost you $12. Considering a tall PSL ran anywhere from $4.25 to $4.45 last year, this alternative is both convenient and cost-effective!
If you want to make a PSL that's even closer to the real thing, grab a package of the returning Pumpkin Spice Caffe Latte K-Cup Pods or the VIA Instant Pumpkin Spice Latte. Both products combine the pumpkin, cinnamon, and nutmeg flavors with coffee and real dairy, meaning you'll get a truly creamy treat.
The other new addition to the PSL line-up is probably the one I'm most excited for: Starbucks Pumpkin Spice Cookie Straws. Drink your home-made PSL through an edible straw consisting of "toasted, white chocolatey rolled wafer cookie" with a "luscious layer of rich, white chocolate and pumpkin spices" inside. These straws will be available at select retailers, running $7 for 20 straws.
Of course, we all have those days when even using the Keurig takes a bit too long. Starbucks has our back on those mornings, too. They're bringing back bottles of their single-serve Pumpkin Spice Latte (under $3), and multi-serve Iced Espresso Classics Pumpkin Spice Latte (under $5). Sleeping in no longer means you don't have time for a PSL. Hallelujah!
Pumpkin Spice Lattes truly might be the best part of fall. Some people think being "basic" is an insult, but to them I say, you can't choose who (or what) you love. Pull out your cozy scarves, plan your coordinating pumpkin patch outfits, and get excited for PSL season.