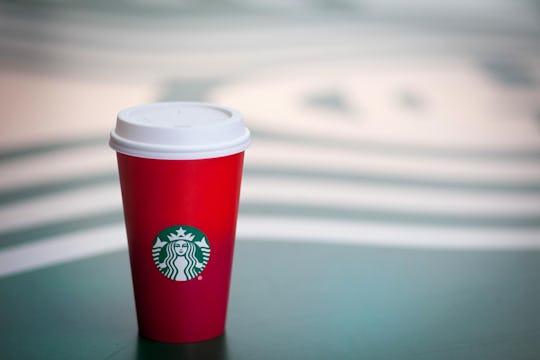 Starbucks
Starbucks Red Cups Are Back, But Not Everyone's Happy About The New Design
Starbucks has always had a loyal army of followers, and its holiday cups remain a marker of seasonal change for many, ushering in the reappearance of eggnog and peppermint lattes as the weather cools outdoors. This year, however, Starbucks unveiled a simpler red cup design, free of its usual snowflakes and sled imagery, and not everybody's happy about it. In fact, Buzzfeed reports that many Christians feel the new Starbucks holiday cups are offensive, claiming they the new design no longer say "Christmas" to them.
The offensive new design was actually meant to be intentionally minimalistic this year, Jeffrey Fields — Starbucks' Vice President of Design and Content — told Buzzfeed. "We have anchored the design with the classic Starbucks holiday holiday red that is bright and exciting. The ombre creates a distinctive dimension, fluidity and weightedness."
Now when it comes down to it, we're really just talking about a coffee cup here. But plenty of angered customers have taken to various media outlets (or simply fired up their Twitter account) to weight in on the change. And the outrage isn't just limited to here in the U.S., either. Over in the U.K., a Tory MP told Breitbart London the switch "smells more of political correctness than a consumer-led change," and Simon Calvert of the Christian Institute commented, "Haven't they heard it's the most wonderful time of the year, and the season of good will to ALL men?"
Joshua Feuerstein, a former Arizona pastor's viral Facebook post is making the rounds on Facebook, challenging viewers to say their name is "Merry Christmas" in Starbucks stores so that the phrase will be written on the cups. The video has racked up over 10 million views. "Choose to not be politically correct," Feuerstein challenges, "just correct!" He adds that he wore his Jesus shirt and carried a gun into the store.
Starbucks kept their response simple and reasonable, much like their brouhaha-causing cup. "This year we wanted to usher in the holidays with a purity of design that welcomes all of our stories," said Starbucks VP of Design and Content, Jeffrey Fields, in a statement. "We're embracing the simplicity and the quietness of it. It's a more open way to usher in the holiday."
On Twitter, the conversation around the controversy has run amuck. Some are all, what's the big deal? (And also: WTF.)
But plenty of others feel the red cups are supposed to be about Christmas, and we shouldn't forget it:
My take? Let's keep things in perspective, folks: It's a cup. A cup. And the inclusivity of everyone doesn't mean the exclusivity of one. Can't we all just be psyched together that holiday time is coming, and leave it at that?
Images: Starbucks; Giphy