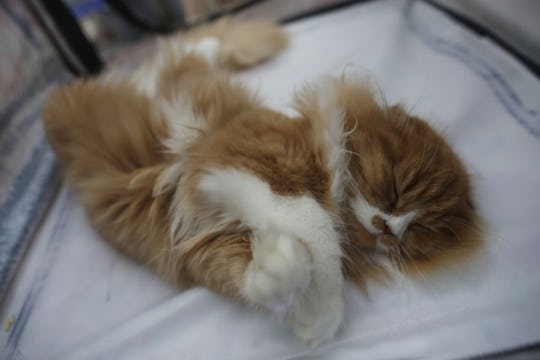 Wang He/Getty Images News/Getty Images
Statistics On Your Feline Friends & Kids' Health
According to recent research, women who own dogs while they're pregnant — or shortly after that — give birth to healthier babies, according to U.K. newspaper, Metro. The same newspaper provided research that showed statistics on cats and kids health, as well. The outlet reported that according to data compiled at the University of Alberta, homes with furry pets, of which 70 percent in the study were dogs, produced babies with two kinds of useful gut bacteria: Ruminococcus and Oscillospira. The study looked at a sample of 746 infants and their mothers between 2009 and 2012 and asked mothers to report whether they had a pet in the home — which some of the time, included cats.
The study particularly explored the fact that, "early-life exposure to household pets has the capacity to reduce risk for overweight and allergic disease, especially following caesarean delivery," along with the idea that there is evidence that pets can alter the "gut microbial composition of infants." Researchers ultimately concluded that "exposure to pets increased the abundance of two bacteria, Ruminococcus and Oscillospira, which have been negatively associated with childhood atopy and obesity."
The study asked about the presence of dogs, cats, both dogs and cats, and other furry pets in households, and researchers admitted that, "Since the majority of households in our study owned at least one dog, a larger sample is required to differentiate the effects of different pet species (e.g. dog and or cat) in future studies."
In 2012, a study by the American Academy of Pediatrics and reported on in Pediatrics investigated "the effect of dog and cat contacts on the frequency of respiratory symptoms and infections during the first year of life." It concluded that the weekly amount of contact with dogs and cats, as well as the average yearly amount of contact, were both related to "decreased respiratory infectious disease morbidity," and that contact with animals during the first year of life is very important.
A Bright Horizons E-Family News article reported that "multiple studies have found that the risk of common allergies is significantly reduced in children who grow up with dogs and cats in their home." But on top of the physical health benefits, the organization also stated that pet ownership for children brings another reward: that of positive emotional experiences.
And speaking of allergies, TheScientificParent.org reported that in one study, researchers discovered that babies who grew up in homes that had a cat, "were about half as likely to develop a cat allergy, as compared to those in homes without cats." In particular, that study, available on the National Center for Biotechnology Information of the U.S. National Library of Medicine's website, found that the presence of a cat during the first year of life was key — those who didn't have an indoor cat in the first year had more of a risk of allergic sensitization to cats.
As with just about anything regarding parenting, there are of course some risks to having a cat and having a baby or small child in the home. It is important to keep a clean home, as a baby could get into feces from any pet, which potentially increase the chance of parasites like Toxoplasma gondii. So, no matter what furry friend you choose for your home, just make sure to practice a clean living environment to prevent any risk.