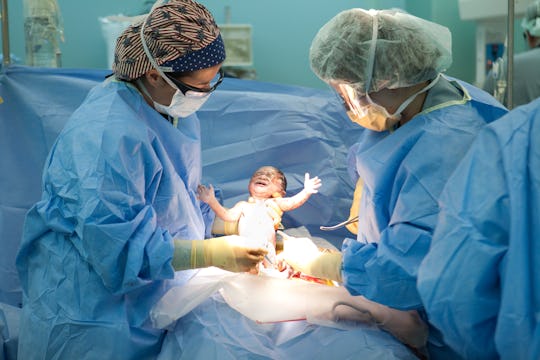 Brendan Hoffman/Getty Images News/Getty Images
How C-Sections Have Changed Over The Last 20 Years
A Cesarean birth, more commonly known as a C-section, can happen for a lot of reasons. Either a doctor has decided that it's necessary to save both the mom and baby's life, or an expectant mother has chosen that it's the best way to deliver a healthy baby. Whether the decision is made while a pregnant woman is already in labor or it's scheduled for a specific delivery date, there is usually a valid reason for a C-section. In the United States, however, some medical professionals believe they're happening too often and the statistics on C-sections now vs. 20 years ago show that women are delivering their babies this way more than in previous decades, a rate that reflects one-third of births.
According to 2015 analysis published by The Journal of the American Medical Association, the rate of C-sections has risen dramatically over the past few decades. For example, in 1970, only 5 percent of American babies were born this way, while in 1996 the rate of C-sections jumped to 20 percent. In 2015, the occurrence of C-section deliveries rose to more than 32 percent, according to national statistics from the Centers for Disease Control and Prevention (CDC).
In other developed countries, for example, about 16 percent of babies enter the world this way in Finland and 24 percent of births in the United Kingdom are from C-sections, the 2015 analysis found. Meanwhile, the worldwide average, which includes 194 countries, is approximately 19 percent.
As health and medicine website STAT News reported, a few factors could contribute to this percentage spike: Advances in technology that track a baby's vital signs and can detect any alarming issues during labor; the fear of a malpractice lawsuit if something goes wrong with vaginal delivery; and the fact that women can elect to have a C-section in the United States. (It's important to note that this doesn't happen very often and accounted for just under 10 percent of elective procedures in 2010.)
"We have higher overall rates than are medically necessary," Katy Kozhimannil, a women's health researcher at the University of Minnesota, told STAT News in 2015. "What we want is for all women who need a C-section to get one, and all those who don't to not get one."
Having a C-section is a major surgery and for most women it's not a matter of choice. While medical professionals are aware of the overall increase and acknowledge that nonessential C-sections do exist, it is sometimes medically necessary and that's why the procedure is available to ensure that every baby enters the world safely.