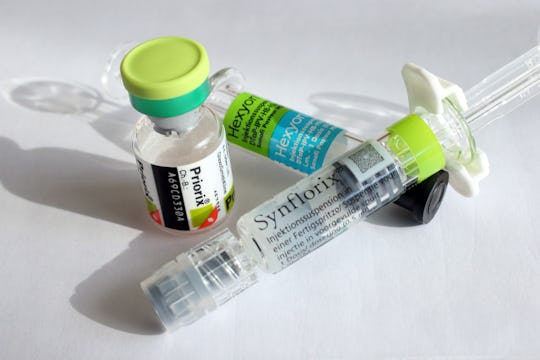 Sean Gallup/Getty Images News/Getty Images
Stats On Vaccination Now Vs. 20 Years Ago
The debate about the safety of vaccinations seems to crop up again every now and then, especially when a new study or legislative bill or even a statement from a celebrity or other personality comes out and gets the ball rolling again. As the future of healthcare coverage in America is up in the air, so too is the future of vaccine requirements and coverage. When it comes to the safety and effectiveness of vaccinations, it's important to look at stats on vaccination now versus 20 years ago and beyond in order to get a good idea of why coverage is still important and necessary today.
According to UNICEF, "Immunization coverage for the six major vaccine-preventable diseases – pertussis, childhood tuberculosis, tetanus, polio, measles and diphtheria – has risen significantly since the Expanded Programme on Immunization began in 1974." That's a little further back than we want to go, so how about some more recent numbers? The organization also reported that, "global coverage for the third dose of DTP (diphtheria, tetanus and pertussis) increased from 21 percent in 1980 to 72 percent in 2000 to an estimated 86 percent by the end of 2015." Stats like these show that routine immunization coverage by many countries is on the rise, but UNICEF also stated that "global coverage of DTP3 has stalled during the last decade and immunization has not yet realized its full potential," and the organization thinks we can do better.
Advancements like a recently-developed needle-free vaccine show that the way we receive vaccines in the next 20 years may change. In fact, the researchers for that development think the product may come to market in an even shorter amount of time — over the next five to 10 years.
But just how effective are vaccinations today, as compared to 20 years prior, and how well are we doing in terms of coverage for all individuals when it comes to vaccinations?
There are a ton of official, fact-checked sources on all sorts of vaccines, and some show that the effectiveness of combatting certain diseases really does come down to the introduction or vaccinations and the rise of coverage in individuals. For example, according to vaccines.gov, with Hib bacteria, or Haemophilus influenzae type b — which can cause severe infections such as meningitis and is recommended for all children under 5 years old in the United States (but is usually given to infants beginning at 2 months old) —the number of cases of the disease dropped around 1990, which corresponds to the introduction of a vaccine that fights against that bacteria.
In 2000, the United States declared that measles, which is protected against by the very common MMR vaccination, was eliminated from the country. But a statement on vaccines.org warns:
However, measles remains a common disease in many countries throughout the world, including Europe, Asia, the Pacific, and Africa. Every year, travelers with measles continue to bring the disease into the United States.
Unfortunately, in 2014, the US Centers for Disease Control recorded 23 outbreaks of measles in the United States, involving 668 individual cases. According to an article on the New York Review of Books website, that's the highest number in 20 years, "and more than the previous five years combined." Many of the cases in question were contracted by children with parents who had refused to vaccinate them. That suggests a direct link between coverage protecting kids 20 years ago and lower coverage today leading to potentially deadly outbreaks.
According to the CDC, coverage with four doses of DTP was 81 percent, and, for three doses of the Hepatitis B vaccine, was 84 percent back in 1997 among children aged 19 to 35 months. Data from 2013 reported in 2015 shows an 84.2 percent coverage for DTP in that same age group and 91.6 percent of children 19 to 35 months old receiving vaccinations for Hepatitis B 15 to 20 years later.
So while coverage here in the U.S. is getting better percentage-wise for many vaccinations, children that aren't vaccinated and adults who couldn't be for whatever reason when they were young are still at risk. Common diseases in other parts of the world — because of a lack of vaccination requirements or lack of access to safe healthcare — can be brought over, or bacteria can still grow and spread here, and if fewer people receive important vaccinations now and in the future, the numbers that have been getting better could reverse.
For more information on the recommended immunization schedule for your children, check out this guide on vaccines.gov, or talk to your child's doctor.