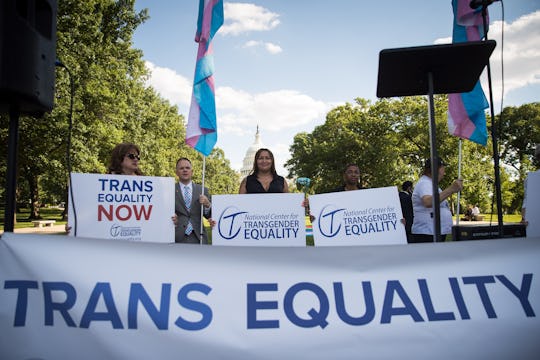 Drew Angerer/Getty Images News/Getty Images
Stats On Violence Against Trans People Prove Trans Military Members Aren't The Problem
On Wednesday, President Donald Trump shocked LGBTQ advocates (and the rest of the United States) when he announced plans to reinstate a ban on transgender people serving in the military, a policy that had changed under President Obama in 2016. In a series of tweets explaining the move, Trump said the U.S. military could not "be burdened with the tremendous medical costs and disruption that transgender [sic] in the military would entail." But the existing stats on violence against trans people prove that the real problem here comes down to prejudice — not transgender participation in the military.
Let's take a look, first, at the "tremendous medical costs" entailed in permitting transgender Americans to serve in the military. According to RAND Corporation, a non-profit policy think tank, the military's medical costs would increase by a mere 0.04 to 0.13 percent if it opened up existing health care to include gender transition–related health care coverage. (According to The Military Times, the Department of Defense spends around five times that amount on Viagra and similar drugs alone each year.)
The RAND Corporation's 2016 report also found that research into foreign militaries' integration efforts had "little or no impact on unit cohesion, operational effectiveness, or readiness." In fact, the non-profit found, the policies usually benefited service members by creating a more diverse and inclusive team.
So what tremendous medical costs or disruptions is the president talking (or rather, tweeting) about?
Any "disruption" to the military, as Trump put it, would likely have more to do with displacing prejudiced societal views. In 2016, according to the Human Rights Campaign, at least 22 transgender people died due to fatal violence. This year, the United States is on track to see even higher numbers: at least 15 trans people have been killed already. According to the U.S. Department of Justice, one in two transgender individuals will be sexually assaulted or abused at some point in their lives. One National Center for Transgender Equality survey found that 90 percent of respondents had experienced harassment or mistreatment while at work.
When people — workplaces, governments, presidents — withhold rights from certain subsets of the population, they institutionalize (and essentially give a stamp of approval to) the prejudice and violence these communities already face. This is a scene we've already seen played out before: when black people were racially integrated into the military, when gay people fought the "Don't ask, don't tell" policy, when the government opened up combat roles to women. Before the government helped normalize female, black, and gay participation in the military, plenty of people worried about "disruption" to the status quo.
The thing is, every time the government lifts a discriminatory policy and allows for a more inclusive society, there is going to be "disruption." But the solution to that disruption isn't for the government to go back to old, prejudiced ways — it's to protect those who are at risk and stand by their rights. These are disruptions that needs to take place. By turning back a policy for equality, Trump is handing power back to those who stigmatize and commit violence against trans people, and essentially punishing trans people for the disruption caused by other people's prejudice.