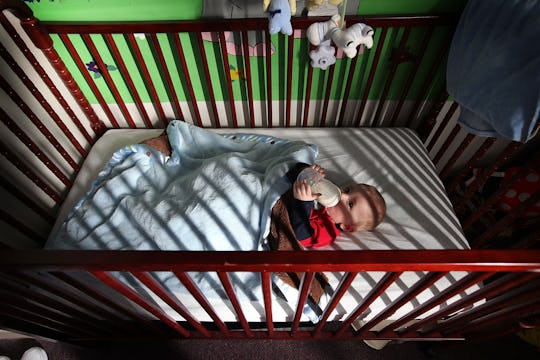 Scott Olson/Getty Images News/Getty Images
Stats Show Low-Income Families Face Higher SIDS Risk
Thanks to a collaboration between a Los Angeles company called Baby Box Co. and health organizations around the country, thousands of babies are now — or will soon be — sleeping in cardboard boxes. It's not because they're all protesting cribs en masse or anything, though. It's actually part of a push to reduce sudden infant death syndrome, or SIDS, in the United States. That's an extremely important and worthy cause, especially considering the fact that stats show low-income families are more likely to have babies who die from SIDS, and things like maternity care being covered by insurance are still up in the air — the sort of thing that could actively impact those families.
The popularity of these "baby boxes" is obvious — according to USA Today and Baby Box Co., when looking at states that have baby box programs in place, "more than 3,000 parents registered to receive the rectangular cartons in Alabama within its program's first 24 hours ... in New Jersey, some 17,000 boxes have shipped out since January." That's a lot of babies sleeping in boxes. So what's the link between these boxes and SIDS, and between SIDS and lower-income families?
The idea that these baby boxes could reduce SIDS comes from the fact that, according to NPR, Finland started its baby box program 80 years ago. Now, the country has one of the world's lowest infant mortality rates in the world. And some say one way to reduce the rate of SIDS here is to give out these baby boxes — particularly to low-income families. But that's just one initiative to try to reduce the rate of SIDS in babies born into low-income families.
A study in the Southern Medical Journal found that there is a "significant association between poverty and SIDS at the metropolitan county level," for non-Hispanic black and non-Hispanic white populations. The study found that by using a "direct measure of poverty," it can be proven that there is a clear correlation between increasing levels of poverty and SIDS.
And a study listed on the National Center for Biotechnology Information's website found that, sadly, "odds ratios for SIDS associated with lower social class increased between 1989–1991 and 1996–1998." And that was in fact after the U.S. Public Health Service started the "Back to Sleep" campaign, which promoted the idea that parents should put a baby to sleep on their back to help prevent SIDS.
That same study, which was published in the 1995 Journal of Paediatrics and Child Health, looked at data from five census periods between 1971 and 1991. The researchers found that low-income families had three times the rate of SIDS than families of upper-income classifications.
KidsHealth.org lists other potential risk factors for SIDS, including the following, quoted from their website:
smoking, drinking, or drug use during pregnancy
poor prenatal care
prematurity or low birth weight
mothers younger than 20
tobacco smoke exposure following birth
overheating from excessive sleepwear and bedding
stomach sleeping
There are all sorts of things that could link low-income families to being more likely to have babies that suddenly pass away from SIDS based on those risk factors. If you look at that list above and break it down, the relationships become more clear. If someone is of a lower-income bracket, they are probably more likely to not have great access to healthcare, which could lead to poor prenatal care, which could lead to prematurity or low birth weights in babies.
Initiatives here in the United States are looking to change some of those numbers and mitigate those factors. For example, in Texas, one local health clinic, Women's & Men's Health Services, is providing a pregnancy box specifically to low-income families. Their box has reading material with information about pregnancy, along with information on local physicians and prenatal vitamins, according to kristv.com, a news outlet out of Corpus Christi, Texas. So not the same as the increasingly popular baby boxes, but a similar, informative and habit-curbing concept.
There is still work to be done when it comes to finding ways to reduce the risk of SIDS and the number of babies and families affected. But there are organizations and strategies in play working to change those numbers. The fact that low-income families are so sharply affected is definitely a factor that needs to be taken into account — because all babies deserve the same shot in life, regardless of the financial situation of the families they're born to.