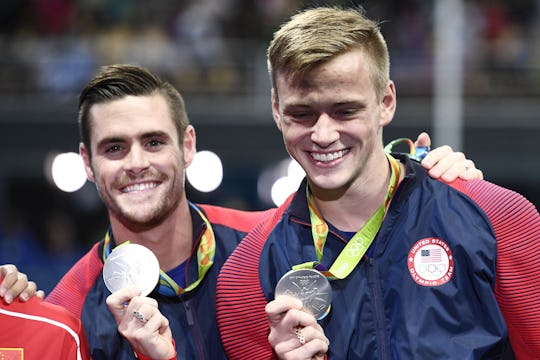 MARTIN BUREAU/AFP/Getty Images
Steele Johnson's Synchronized Diving Silver Medal Is A Big Deal For This Reason
Prior to competing in the Olympics, Steele Johnson suffered a traumatic experience that nearly kept him out of the water for good. But on Monday, Steele Johnson won a silver medal in synchronized diving at the 2016 Summer Games in Rio de Janeiro and it's a pretty big deal. The move that almost killed him later became his favorite dive, and after performing it on Monday, he is now one step closer to claiming the ultimate victory, proving that enough determination and love for this sport can take you to the top.
Johnson was just 12 years old when he was practicing a tricky 3 ½ somersault dive that nearly cost him his life. Seven years after his accident, Johnson, an Indiana native, posted a video on YouTube to retell the nearly tragic day on Jan. 21, 2009.
According to Johnson, it was a normal day and a normal diving practice at Indiana University. He recalled that nothing unusual happened before he attempted a difficult 3 ½ somersault dive, but as he started to flip in the air, he hit his head on the concrete platform ten feet below him, falling a total of 33-feet into the water. His scalped ripped in half from the impact and he fell unconscious. As he began to sink into the pool, his coach, John Wingfield, dove in and saved him.
"With the amount of blood that I lost, it's likely that I could've died," he said in the video. "If I was maybe a centimeter closer to the platform, I could've fractured my skull. If I was going at a faster rate hitting the water, I could've torn more of my scalp open. There's a lot of factors that could've made this any worse and I think if it had gone any worse, I wouldn't have made it."
Many things could have gone wrong that day, but Wingfield was able to keep the ambitious diver from bleeding out by holding his head together. If enough of the pool's chlorine had gotten into Johnson's open head wound, it might have caused brain damage. But, he luckily only suffered a minor concussion.
Johnson said he "cringes" every time he thinks about the accident and doesn't like talking about it either, but was recently inspired to open up about it in a book entitled It's Not What You Think: Why Christianity Is About So Much More Than Going to Heaven When You Die, by Jefferson Bethke.
"There's going to be stuff in your life that's going to try and destroy you on every level," Johnson continued in the video, adding that sharing his experience may be able to help others one day. "It's going to be a physical battle, it's going to a mental battle, and it may be a daily battle for many, many years. In my case, it was a seven year battle."
The silver medalist said he has been hesitant to talk the accident over the years and the long and short-term memory loss he's suffered has been one of the biggest hurdles he's had to deal with. He still suffers from memory loss from time to time, but has chosen to open up about his ailment regardless.
It was only a month after the accident until Johnson was on the diving board again and it's clear that he wasn't going that let the accident get in the way of his Olympic goals — Johnson, along with his teammate, David Boudia, won the silver medal for team USA.
"It's crazy to think that this dive went from something that almost killed me to being my favorite thing to practice," Johnson concluded the video. "When I'm up on the 10-meter, I'm not thinking about the time I hit my head, I'm thinking about how much I enjoy diving. "The cool part of the story is, something that almost killed me has become the thing that I'm best at."
Considering his silver medal victory with diving partner David Boudia on Monday, that statement couldn't be more true.