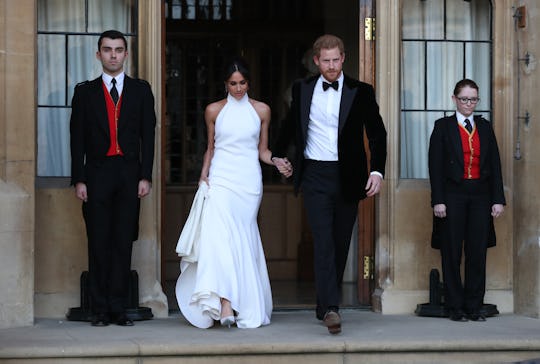 WPA Pool/Getty Images Entertainment/Getty Images
Why Meghan Markle Picked Stella McCartney To Design Her Second Wedding Gown
Meghan Markle, Duchess of Sussex, is so beautiful that she could have worn a flour sack (yes, a flour sack and not a potato sack because flour sacks are white like wedding dresses) to her royal wedding and still looked great. But instead, she chose to wear two bespoke gowns — one by Givenchy for the ceremony, and one by Stella McCartney for the private reception afterwards. In a new interview, designer Stella McCartney opened up about why Meghan Markle chose her to design the wedding dress — and she has a feeling that a lot of it comes down to sustainability.
In the world of fashion magazines, the September issue is the biggest one of the year. This year, Elle UK is using its September issue to shine a light on sustainability in fashion — an industry that is the second largest polluter on Earth, the Sierra Club reported. McCartney, known for her passion for sustainability in fashion, was a natural choice to be featured in the issue.
"I have had moments in my career where I've caught up with Gwyneth [Paltrow] or Madonna and was like, 'Can I dress you for that?' But this time around, they were drawn to me," McCartney told Elle UK. "[Meghan] approached me and we worked on other things. She wore other pieces of mine and we had a friendship. And then she asked me to do her second wedding dress. I was honored and I still am."
"I think Meghan chose me for reasons other than just a beautiful dress — plenty of people can do that," McCartney also told Elle UK. "She is not a difficult client to make look beautiful." The reasons, McCartney thinks, are because of her sustainable design practices. Her brand never uses leather, skin, fur, or feathers from animals, according to the website. The company also uses recycled fabrics, recycled or recyclable metals, and it is working towards a circular economy. (A circular economy is one that makes products to last, allowing people to use them for as long as possible, and ultimately the products can be recycled into new products at the end of their lives, as explained by Wrap.)
The duchess has expressed a passion for environmentalism and animal rights on multiple occasions — including at the royal wedding. In lieu of wedding gifts, Meghan and Prince Harry, Duke of Sussex, requested donations to a selection of charities, as listed on the official royal website. Two of the charities focused on environmentalism: Surfers Against Sewage, a national marine conservation charity that works to protect oceans, beaches, and marine animals from plastic pollution; and The Wilderness Foundation UK, an organization that supports people including "vulnerable teenagers" and "urban youth" through conservation education.
And at the royal wedding itself, the flowers came from a sustainable florist, the food was all seasonal and local, they did not serve beef, and the couple rode away in an electric car, Elle UK noted.
Furthermore, Meghan has made her stance on animal cruelty (especially regarding fashion) clear many times. For one thing, Meghan refuses to wear fur, The Independent has reported. This past winter, reports circulated that Prince Harry was skipping his annual Boxing Day hunt because Meghan is opposed to hunting, Plant Based News reported at the time. Additionally, Meghan has rescued two dogs, according to W. And in 2016, Meghan told Best Health in an interview that she observed a mostly vegan diet when she was filming.
All that being said, it absolutely makes sense that Stella McCartney's sustainable fashion practices were a factor in Meghan's decision to hire her for one of the most notable wedding dresses of the decade.