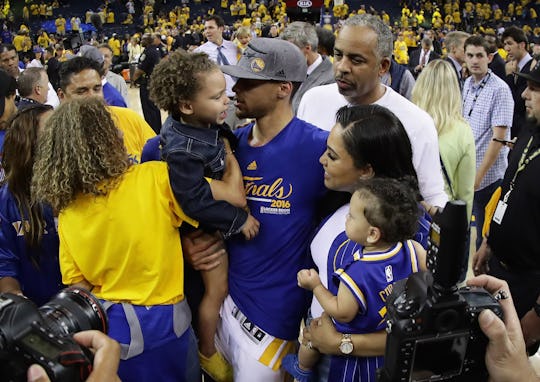 Ezra Shaw/Getty Images Sport/Getty Images
Steph Curry's Daughter Riley Has The Cutest Reaction When He Puts On His Jersey
There's something special about a daddy-daughter bond. Just ask basketball superstar Stephen Curry of the Golden State Warriors. With the help of a Brazilian translator, Curry sat down with soccer legend Neymar Jr. to discuss family, sports, and life in an interview with The Player's Tribune. And what transpired are tales of pure parental joy. The highlight? Steph Curry's 6-year-old daughter has the cutest reaction when her dad puts on his jersey.
Stephen's oldest daughter, Riley, remains completely fascinated by her dad's profession. When Stephen is wearing regular clothes, Riley knows he's Dad. But, when Stephen puts on his jersey, Riley calls him 'Stephen Curry, number 30.'
"There's a clear distinction between me wearing a jersey and playing basketball versus me just in my street clothes or at the house," said Stephen. "[Kids] notice everything about you and you can't sneak anything behind them. So for her to kind of differentiate … I only say this as like a fan's perspective, but almost just like that Warrior jersey, with number 30, that's Stephen Curry, and he's a different character, a different person than Daddy is…."
Leave it to a six year old to pick up on the smallest of details. But, when it come to dad, daughters always know what's up.
And the admiration doesn't stop there. Stephen said that his six year old wants to be just like her parents when she grows up.
"Well, we asked Riley, 'Hey, Ri Ri — what do you want to be when you grow up?'" Steph said in a personal essay for The Player's Tribune. "And she didn't miss a beat. 'A basketball player cook.' Like I said, the girl is really feeling her parents these days."
Makes sense. While her dad is a basketball star, Riley's mom Ayesha is a talented chef and cookbook author.
And yes, the basketball gene is there. "She's dribbling 100 times in a row now, continuously — and we're working on getting the left hand up to par," Stephen said in his essay.
Steph and Ayesha have three children together — six-year-old Riley, three-year-old Ryan, and newborn Canon, according to E! News.
Over the past few years, the Currys have become of the most-loved celebrity families around. And, judging by their cute social media posts, this family is tight.
Just recently, Ayesha posted a family photo saying, "My 🌎 My⭐️ My 🌚 My 🌞... all of it! I love my squad. Can't believe we're parents of 3 😆🤪👨🏽👩🏽👧🏽👧🏽👶🏽."
If you're keeping score, that's a kid every three years, as Stephen told The Players Tribune. So will the Currys be adding any more players to their tiny team? Stephen said no. "I have two girls and a boy. I'm good. I'm blessed," he added.
So, family man, sport star, and a good sense of humor? No wonder his family adores him. And it looks like the feeling is mutual.
In a recent Instagram post, Stephen said, "10-12-18 My dudes first game tonight! so surreal. He's Staring at my hairline probably thinking 'please God, bless me more abundantly than this...' #youngwolf"
In a world where athletes are sometimes in the news for less than savory reasons, it's great for fans to hear about an athlete like Stephen who cares about how his daughters see him — as a person and as an athlete. So go ahead, Stephen, put on that jersey and make your daughters (and son) proud.