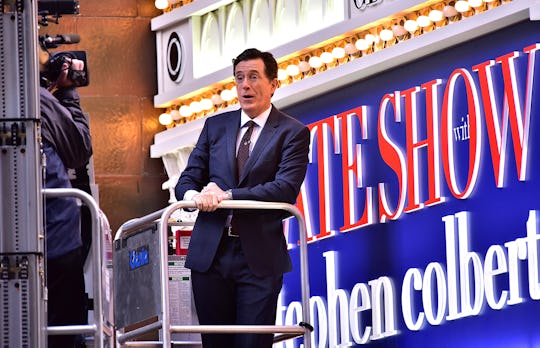 James Devaney/GC images/Getty Images
Stephen Colbert's Post-Super Bowl Show Included An Epic Obama Cameo
The best thing about Super Bowl 50 this year definitely wasn't the sports (because, I'm sorry, the commercials and the food are usually the real reason everyone has parties), it was Stephen Colbert's post-Super Bowl show. An episode of Colbert's The Late Show followed immediately after the end of the Super Bowl, and the amazing comedian and talk show host discussed the big game, the commercials, and the many foods fans eat while they're throwing back cans of cheap beer.
It's the first time that CBS has ever given the TV spot right after the Super Bowl to a late-night talk show, which is a pretty big deal and proves just how relevant Colbert and his commentary have become to, well, everything, according to the New York Times. Guests on Colbert's show Sunday night included Tina Fey and Margot Robbie, Will Ferrell, Megyn Kelly, and Key and Peele, according to CBS.
Because Colbert is notorious for not being able to contain his excitement surrounding big events (after The Colbert Report ended and The Late Show had not yet started, Colbert released a YouTube video of him parodying Donald Trump's announcement that he would be running for president), he released a YouTube video Saturday titled "A Late Show Guide to Super Bowl Dips." He said fans have gotta have the right snacks: chips and dip. Not salsa. Why? "Because salsa's not a f*cking dip, Cheryl. Don't drag down my party with that weak sh*t."
And Colbert's follow-up performance was just as hilarious and epic. Only a few minutes into the episode, Colbert started chatting with President Barack Obama over what appeared to be a live stream from the White House. But, then, the president revealed that he wasn't actually live. And, to prove it, Colbert walked up next to him and the two started chatting about the game.
Also, true to Obama's typical form, he cracked some ridiculous dad jokes.
Colbert and Obama played catch with a football, and it was a truly epic moment.
Obama's appearance proved — for the 100th time — that he is just one of the coolest and most down-to-earth presidents in history. CBS adds full clips from The Late Show the day after it appears, so look for it on Monday.