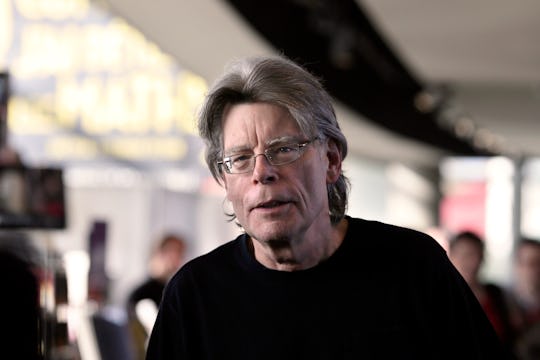 KENZO TRIBOUILLARD/AFP/Getty Images
Stephen King Compares Donald Trump To Cthulhu In One Scathing Tweet
Stephen King has a few opinions about Republican presidential nominee Donald Trump. It might be safe to say that the legendary horror author himself is not the biggest fan of Trump. And if his past commentary on the presidential election isn't enough proof that he's displeased with the real estate mogul's presidential run, then his recent Twitter activity certainly closes the case: On Monday, King compared Trump to Cthulhu (the part octopus, part man, and part dragon entity created by the revered horror author H.P. Lovecraft) in one scathing tweet. Apparently, Cthulhu was not too happy with the comparison.
In an interview with Rolling Stone this past June, King shared his opinion that Trump represents a population of Americans who subscribe to deep-rooted racist and sexist ideals:
I am very disappointed in the country. I think that he's sort of the last stand of a sort of American male who feels like women have gotten out of their place and they're letting in all these people that have the wrong skin colors. He speaks to those people. Trump is extremely popular because people would like to have a world where you just didn't question that the white American was at the top of the pecking order.
While King has commented on Trump's rhetoric on other occasions in the past, on Monday, he tweeted out a theory about Trump that sparked a lot of conversation throughout the Twitterverse.
"Breaking News: Reliable sources reveal that Donald Trump is actually [Cthulhu]," King wrote. "The absurd hairdo isn't absurd at all. It hides the tentacles."
His comparison to Cthulhu, Lovecraft's fictional character, which first made its debut in 1928's The Call of Cthulhu, even prompted a response from Cthulhu itself – well, a parody account created for the character on Twitter. Naturally, the Twitter account is leading a presidential candidacy run of its own for the 2016 presidential election.
"Trump could barely hope to be 1/63 as great as I am if he weren't such a buffoon," the Cthulhu Twitter account tweeted in response to King's comparison. What's more, the Cthulhu account released a full statement on King's comments – references to King's work included. (Cue King's novel The Dead Zone for example.)
Trump may be trying to "Make America Great Again," but according to Cthulhu's Twitter account, the fictional character is aiming to get Americans "Ready for Cthulhu." And in case you were wondering, yes there are "Cthulhu for President" t-shirts available for purchase – and yes there's a campaign website outlining Cthulhu's detailed stances on issues.
So, while King is comparing Trump to Cthulhu, Cthulhu is apparently preparing to get the country #ReadyforCthulhu.
2016 is shaping up to be a pretty wild election year.