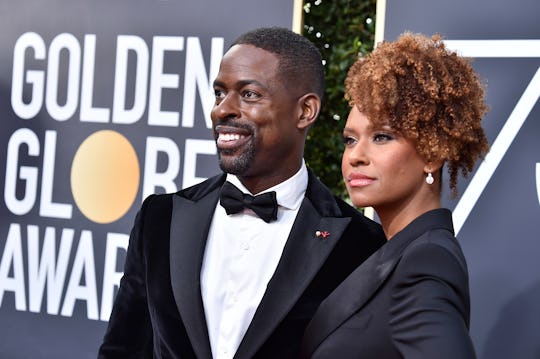 Frazer Harrison/Getty
Sterling K. Brown Confesses To "Mansplaining" Birth To His Wife & It's Hilarious AF
Even though I've heard this story before, it will never not make me laugh when this couple describes their son's birth. On the 2018 Golden Globes red carpet, Sterling K. Brown recreated his wife giving birth and it will have you chuckling for days. Apparently Brown thought he knew more about giving birth than his wife, Ryan Michelle Bathe, as she was literally giving birth. And the result was a surprise home birth that must have been stressful at the time, but is now a hilarious anecdote.
Talking with Ryan Seacrest on the red carpet, Brown described once again how he happened to help deliver his first-born son, without ever really planning to. He explained that Bathe came crawling out from the bathroom on all fours saying that she was crowning. Brown said that was impossible because it's way too early. "You know, mansplaining her body to her," Brown laughed self-deprecatingly. He then apparently looked between Bathe's legs and saw his son's whole head emerging from her body. The couple then had to call their midwife who talked them through the birth. By the way, the whole time Brown was recalling this story on the red carpet, a clip of the actor on Kelly Ripa's daytime talk show played above his head, which was even more hilarious than the story itself.
In the clip, Brown has actually crawled up his chair and is bent over so his butt is in the air. He then gestures illustratively at the space between his legs, indicating that this is where the child was coming out, in case anyone was unclear about where babies come from. Ripa died, I died, we all died. It was pretty much the most hilarious description of childbirth that I've ever seen in my entire life. I vote for Brown to reenact every birth from here on out. Or something.
In fact, this story is so compelling that it actually inspired a storyline on Brown's show, This Is Us. In an interview with Entertainment Tonight, Brown explained how they unexpectedly had their son Andrew at home in their bedroom rather than at the beautiful birthing center they had planned. This might remind you of the time on the show when Beth, Brown's character's wife, unexpectedly gives birth at home. Talking about show creator Dan Fogelman, Brown said, "He's like, 'Oh, we gotta put it in the show, we gotta put it in the show,' and so they incorporated it into our [TV] life nine years ago."
This is actually Brown's second time at the Golden Globes and his second nomination. He was nominated the year before for his work on The People Vs. O.J. Simpson, where he played Christopher Darden, and started the world's collective obsession with him. He was nominated for Best Actor in a Supporting Role for that. Now a year later he's nominated again, this time for Best Actor for the popular NBC tearjerker show, This Is Us. On the red carpet Brown even teased some drama to come with his TV brother and his TV kids.
Personally I can't wait to see more of Brown, and clearly neither can the rest of the internet. Twitter always goes nuts for this couple not just because it is adorable the way they double-team this story (which it is) but also because they seem so genuinely in love and great together. And Brown always puts a smile on my face no matter what he's talking about, but even more so when he's talking up his amazing wife and their children. I don't watch This Is Us that often, but maybe I had better start.
Check out Romper's new video series, Romper's Doula Diaries:
Watch full episodes of Romper's Doula Diaries on Facebook Watch.