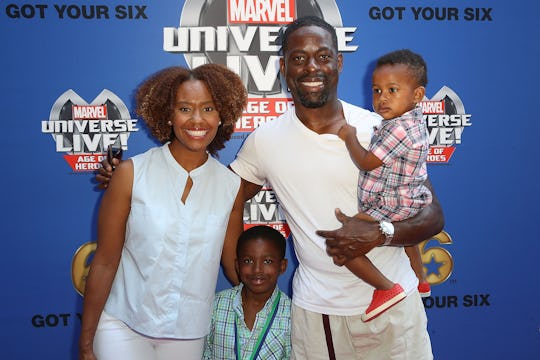 Ari Perilstein/Getty Images Entertainment/Getty Images
OMG, Sterling K. Brown's Son Encourages Swearing For The *Funniest* Reason
It's been a while since America had a celebrity kid obsession — Riley Curry hasn't done any scene stealing in ages, and baby Asahd Khaled hasn't produced a record in almost a year — but get ready, because your new child hero is 6-year-old Andrew Brown, Sterling K. Brown's son, who wants you to swear in front of him, if it's not too much trouble. Yes, you read that right, Andrew looks forward to hearing adults spout curse words. But before you peg him as some kind of delinquent, wait until you find out the reason behind his affinity for naughty language.
"There's a 'no profanity' clause" in the Brown household, Sterling explained to Us Weekly, "But Andrew, my oldest, generally encourages free and open banter from adults because every time they slip up, he gets a dollar — two for an F-bomb! He's very smart." I'm just picturing this kid hiding his parents' keys when they're running late, or maybe stashing someone's favorite snack, then sitting back and waiting for the fireworks. He's kind of an inspiration. Dad also shared that Andrew's a bit of a wild child, but a good big brother to Amaré, age 2. "The baby will attack Andrew and Andrew will fake hold him down." Adorable.
Brown, perhaps best known for starring on This is Us, is currently promoting his film Hotel Artemis, which premieres this weekend. It's set in a dystopian near-future Los Angeles, where criminals avail themselves of a members-only hospital overseen by the Nurse (Jodie Foster). Brown plays Waikiki, a man on the run with his injured brother, Honolulu, played by Brian Tyree Henry, whom fans will recognize as Alfred "Paper Boi" Miles from Atlanta. The brothers hole up at the titular hotel when a riot breaks out over a water shortage.
Brown is having a moment right now — that is, if a moment can last two years. In addition to Hotel Artemis, he played a small but crucial role in Black Panther, one of the biggest movies of the year, and he took home back to back Emmys in 2016 and 2017; the latter for This is Us, and the former for his breakout role as Christopher Darden on American Crime Story. So how does Andrew feel about having a bona fide star for a father? He "understands, but he kind of doesn't care," Brown told Entertainment Tonight last September. His wife, Ryan Michelle Bathe, concurred: "He just makes fun of him: 'I'm Sterling Brown and I won an Emmy.'"
Perhaps Andrew's lack of F's stems from the overwhelming excitement of his birth; as Sterling told E! Online earlier this year, he came shooting right out in his parents' bedroom. "Ryan comes crawling out of the bathroom on all fours and she says, 'I think I'm crowning,'" he recalled. "So I look in between her legs while she's on all fours. The baby's head is all the way out." After calling the midwife, Bathe gave just one push, and Andrew "wiggled out," Sterling said. "I had to pass him in between her legs!"
"He's got a lot of personality," Sterling told People. "Any time you turn the camera on to this child, he shows up." Watching Andrew ham it up in his father's Instagram videos, you'd assume he's destined to become an actor, as well, maybe leaning more toward comedy. But Bathe said their son has a different type of career in mind. "He wants to be a scientist, so we're really hoping the scientist thing happens. Because he wants to be better than Einstein. But then he goes, 'Sexy dance, sexy dance, sexy dance.'" Not surprising! "He's going to be a weird scientist," Sterling concluded, and boy, do I hope he ends up hosting a TV show.