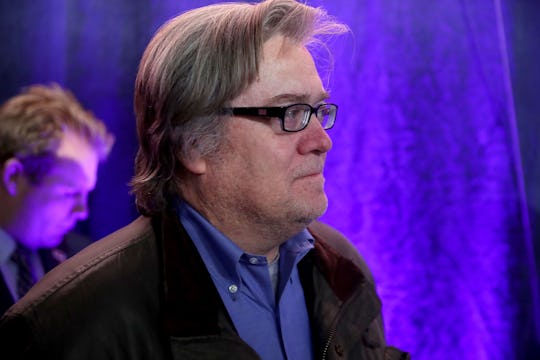 Chip Somodevilla/Getty Images News/Getty Images
Steve Bannon Reportedly Said Excluding Black People From Voting Wouldn't Be So Bad
In a scathing new profile in Monday's The New York Times of Steve Bannon — President-elect Donald Trump's pick for senior counselor and chief White House strategist — writer Scott Shane reported that a film colleague of Bannon's said that the 63-year-old executive of conservative news website Breitbart News once believed in the "genetic superiority of some people." Julia Jones collaborated with Bannon on a documentary about Ronald Reagan. According to Jones, allegedly Steve Bannon said it's "not such a bad thing" to exclude black people from voting. Jones then specifically asked about how excluding blacks from voting would affect Bannon's personal executive assistant, Wendy Colbert — who is black. "She's different," Bannon allegedly told Jones. "She's family." Representatives for Bannon did not immediately return Romper's request for comment.
Barring the fact that Bannon may have potentially characterized his business assistant in a way reminiscent of slavery — there is a whole lot to unpack here about what Bannon allegedly said to a colleague of his. Voter suppression in the form of disenfranchisement is a real, tangible threat to millions of Americans — most often affecting the poor and minorities — and you can thank Republicans for cranking out voter ID laws in 14 states since the Supreme Court struck down parts of the Voting Rights Act in 2013. Now, how would voter IDs affect African-Americans, and what does this have to do with Bannon? Shane's piece for The New York Times noted that Jones also said that Bannon allegedly "mused about the desirability of limiting the vote to property owners."
Now, it seems easy to chalk up Jones' comments about what Bannon allegedly said to exaggeration or perhaps mis-remembering events that happened in the past. But this latest reveal about Bannon's alleged racist remarks is yet another in a long line of racism allegations about Trump's most contentious White House adviser pick. Bannon has been accused of anti-Semitism, according to court documents in which his now ex-wife said he didn't want their twin daughters "going to school with Jews." Bannon has denied making these comments.
It's also important to note that some of the highest praise that Bannon has received, both in his tenure at Breitbart and as Trump's campaign CEO, came from known White nationalists and racists, including former KKK grand wizard David Duke, who specifically praised Trump for selecting Bannon. Breitbart News — as well as Bannon himself — have become highly regarded within the "alt-right" movement, an ideological movement driven largely by white nationalism, supremacy, and neo-Nazis. Bannon himself hasn't even walked back the association, calling Breitbart a "platform for the alt-right" in an interview with Mother Jones in July.
With the impending Trump administration hinting at everything from creating a government registry of Muslim Americans to deporting the children of undocumented immigrants brought into the United States, Bannon's alleged comments are hardly surprising — but they should raise concern for every American. Even Nevada Sen. Harry Reid called on Trump to fire Bannon.
No matter the accuracy of Bannon's alleged comments on suppressing black voters, his history with racism and white nationalism should raise some serious alarms for Trump's transition team — but instead, they've given him the ear of the president for the next four years.