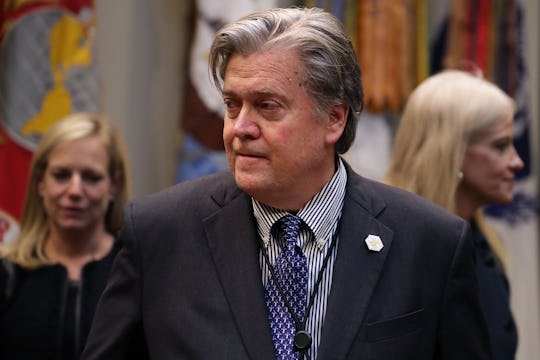 Chip Somodevilla/Getty Images News/Getty Images
Steve Bannon Isn't A Planned Parenthood Fan
Steve Bannon, President Trump's chief strategist has been the subject of headlines since he was managing Trump's presidential campaign last year. Before that, people mostly knew him as the man behind the often incendiary Breitbart News. Given that organization's reputation when it comes to writing articles about women and feminism, Steve Bannon's quotes about Planned Parenthood and women in general are pretty much exactly what you'd expect.
Bannon's name has become synonymous with Breitbart, of which he was a founding member and for which he provided editorial oversight up until his focus shifted to his role in Trump's campaign and now, administration. It was while the news site was under Bannon's leadership that it published a series of posts about Planned Parenthood, abortion, birth control, and women in general. One compared Planned Parenthood to the Holocaust. Bannon has been accused of anti-Semitism in the past (by his ex-wife, in their divorce hearing, under the penalty of perjury) though Bannon has denied it.
That divorce was preceded by a high profile domestic violence case involving Bannon and his then-wife in 1996. Bannon's wife alleged he had become physically violent with her during an argument, then destroyed their telephone when she attempted to call the police, according to The Guardian. The court documents were published by Politico in August of 2016 but have since been removed. Bannon had been charged with misdemeanor witness intimidation, domestic violence with traumatic injury and battery. The case was later dismissed when Bannon's now ex-wife did not turn up in court. The couple later divorced. Romper contacted the attorney on the case who was unable to comment on any specifics, but did confirm the case's existence.
Bannon has not spoken highly of women on-record on many occasions and seems to be particularly offended by the feminist movement. In an interview several years ago he said the following in a clear attempt to praise conservative women and disparage liberal women and members of the LGBTQ community:
That's one of the unintended consequences of the women's liberation movement – that, in fact, the women that would lead this country would be feminine, they would be pro-family, they would have husbands, they would love their children. They wouldn't be a bunch of dykes that came from the Seven Sisters schools up in New England. That drives the left insane and that's why they hate these women.
Under Bannon's editorial eye, Breitbart published several articles penned by various members of its writing staff with titles such as "Birth Control Makes Women Unattractive and Crazy" and others that wondered "Does Feminism Make Women Ugly?," and "Is Feminism Destroying Women?"
A former employee of Bannon's, Julia Panely-Pacetti, sued him after claiming she was fired while on maternity leave. Panley-Pacetti also has multiple sclerosis, and claimed that the disability was also a factor in her termination. Despite the protections employees are meant to have while on maternity leave, Panley-Pacetti said she was not only fired during that time, but that she had also been forced to continue to work during that time. The two reached a settlement in 2006, but no details were made publicly available, according to the New York Post. Romper was unable to reach Bannon's attorney on that particular case, and a request to White House Communications for comment went unanswered.
Not unlike Trump and other members of his administration, Bannon has also been accused of sexual harassment, which he denied, according to BuzzFeed. Bannon was quoted directly in the Tucson Citizen calling female employees of Biosphere 2 — which Bannon was working for as a consultant — "bimbos," and other lewd comments. He was also quoted as saying that he would take their complaints about safety and "ram them down their f—ing throats." The suit was eventually dropped, and Bannon denied any wrongdoing.
Bannon has perhaps not specifically articulated his opinions on Planned Parenthood (as some members of Trump's administration have), but his opinion on women in general has likely informed his perspective. Now that he has an arguably high influence on the president's decision making, it may be that what Bannon has not said publicly could be more dangerous than what he has.