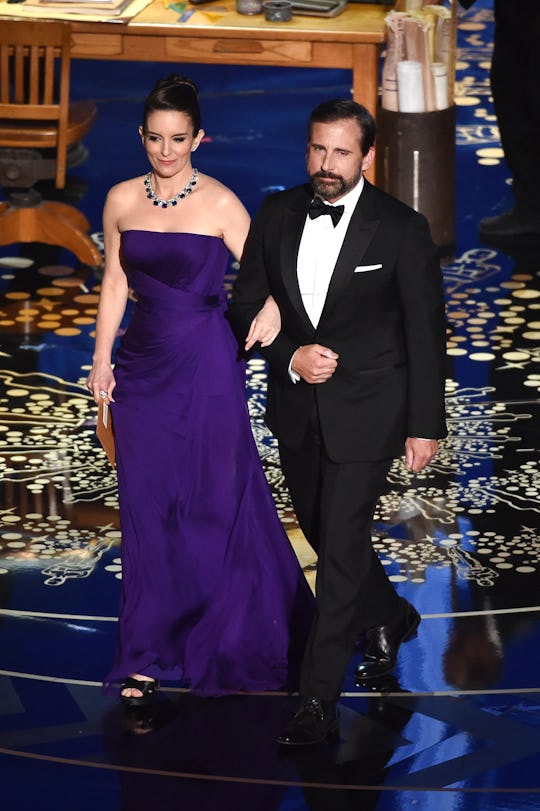 Kevin Winter/Getty Images Entertainment/Getty Images
Steve Carell's Glitter Beard At The Oscars Was A Serious Hit
Comedians Steve Carell and Tina Fey presented the Oscar for Best Production Design during the 88th Academy Awards on Sunday night. Of course, Carell and Fey were hilarious; his deadpan delivery and her razor-sharp wit were pretty much a guaranteed hit. But the real star of the moment — and perhaps of the entire night — was the shimmering glory that was Steve Carell's Oscars glitter beard. It pretty much took over Twitter on Sunday night.
But before I show you the bling, let's address the first question that comes to mind: "Why? Why on earth does Steve Carell have a glitter beard?" Well, it turns out quite a few guys have been sporting sparkly facial hair in recent months. According to Tech Times, the #glitterbeard trend started late last year as a challenge posted by two Instagram users to kick off the holiday season. Thousands of men took photos of themselves all blinged out to add a bit of fun to the holidays.
Carell's appearance might be the first time that the glitter beard has been in front of a worldwide audience. To his credit, he didn't overdo it, either: Carell's hint of follicular shine was just subtle enough to leave viewers wondering what they were actually seeing. And to be honest, Twitter didn't exaggerate. Carell's beard really was a thing of beauty.
Maybe other Oscar presenters will follow Carell's lead? A girl can dream, right?