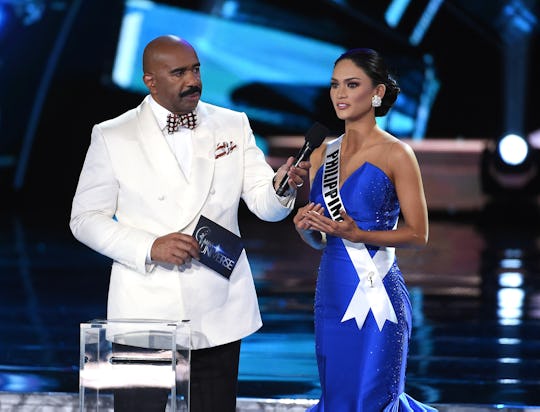 Ethan Miller/Getty Images Entertainment/Getty Images
Steve Harvey Tweets Prove Twitter Never Forgets
In case the world news and politics of our current uncertain times is unsettling to you, I have something that might just cheer you up. Miss Universe 2017 is back, and it airs tonight with host Steve Harvey making a (hopefully) triumphant return to the stage. Famously, Harvey announced the wrong contestant's name last year during the ceremonies, when — however briefly — Miss Colombia Ariadna Gutierrez wore the crown instead of the actual winner, Miss Philippines Pia Wurtzbach. There was a very painful, yet mesmerizing moment of true reality television when the crown was removed from Gutierrez's head and placed on Wurtzbach's. Of course, most of us wish Harvey nothing but the best of luck during this year's ceremonies, but you can't help but love the internet's reactions to learning Harvey was returning. These Steve Harvey Miss Universe tweets prove the world hasn't forgotten, and honestly, thank goodness.
Amid all the political drama of the weekend, and a possible Supreme Court nominee being named by Trump this week, doesn't the world deserve some quality competitive television to help us forget the state of shambles America is currently in? Between families being separated due to Trump's immigration ban, and Stephen Bannon becoming a full-fledged member of the National Security Council, I think we could all use a laugh. At Sunday's ceremony, Harvey seemed to realize as much, poking fun at himself for the 2016 gaffe and instructing his stage crew and assistants to send him through a secret trap door to escape if he messed up again.
Lucky for us, Twitter remains on par with Harvey in its hysterical shade-throwing skills. Even before the program began, tweets began rolling in, poking fun at Harvey's blunder from the previous year.
Many Twitter users, of course, wanted to wish Harvey luck, but still couldn't resist the temptation to remind us all of what happened last year.
This year, the pageant takes place in the Philippines, providing ample ammunition against Harvey, who mispronounced the nation during his famous mix-up as well.
Obviously, we don't want any feelings to get hurt. After all, it takes a lot of guts to walk across a stage in a swimsuit, especially when you're being watched by millions of viewers, worldwide. I could never do it. So, hopefully, no matter what happens, all the contestants feel beautiful, and Harvey does his best to not make any mistakes, or offend anyone. The world is already having a hard enough time.
Although, we wouldn't be too upset if the great jokes kept coming. It's a welcome distraction from the current hell-fire of American politics.
Good luck, Steve, we'll be rooting you on as you host Miss World.
I apologize, Miss Universe. I take responsibility.
No? Too, soon?