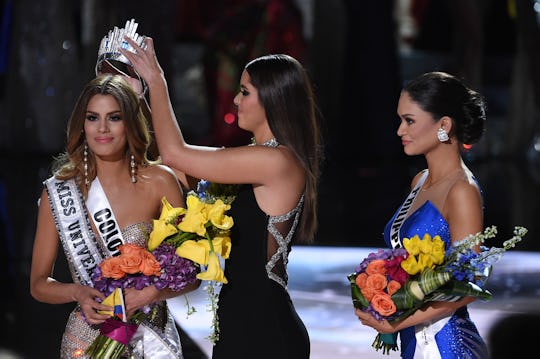 Steve Harvey Names The Wrong Winner At Miss Universe & 4 More Cringeworthy Pageant Blunders
On Monday morning, it was impossible to get on social media without reading about host Steve Harvey crowning the wrong woman as the winner of the Miss Universe pageant, according to New York magazine. And, while Miss Philippines (and maybe Twitter because it's well… Twitter) were slightly happy about the mix-up, many couldn't help but feel bad for Miss Colombia — who just had her highest and lowest moment occur right in front of millions of viewers. Unfortunately, Harvey's debacle hasn't been the only awkward pageant mishap in the history of pageantry.
During the last five minutes of the Miss Universe pageant, the final three, Miss USA (Olivia Jordan), Miss Colombia (Ariadna Gutiérrez-Arévalo), and Miss Philippines (Pia Alonzo Wurtzbach) learned their fate. While Jordan was correctly awarded with second place, Harvey announced the winner was Miss Colombia, who instantly became emotional, picked up her nation's flag, and waved to the audience. But, then, things went silent. Harvey solemnly announced that Miss Colombia was first runner up. And while everyone processed what happened, Miss Philippines took the stage again amid Miss Colombia had her sash and crown removed. And then Harvey tried to find something to blame the debacle on. It was that bad.
Harvey was quick to acknowledge his major blunder. Taking to Twitter soon after the mishap, Harvey tweeted an apology to his 3 million followers:
I don't want to take away from this amazing night and pageant. As well as the wonderful contestants. They were all amazing.
Originally, Harvey tweeted an apology, misspelling Philippines as "Philippians" and not quite getting down "Colombia" — appropriately leading to the Twitterverse freaking out for the second time that night, according to USA Today.
Unfortunately, this isn't the only pageant blooper that has made people feel totally uncomfortable. Here are four more pageant moments that are super cringeworthy.
When Miss South Carolina Took On Education
When Caitlin Upton was asked at 2007's Miss Teen USA why one-fifth of Americans can't locate the United States on the map, she really tried to give an insightful opinion. Like, she really tried. But what came out of Miss South Carolina was word vomit that we have not yet forgot.
Miss Utah Was Stumped By The Gender Wage Gap
Okay, numbers are confusing. But during the 2013 Miss USA pageant, Marissa Powell tried to tackle the wage gap — and it didn't make a lick of sense. But she deserves some credit, though, as she kinda got it together at the end by saying men have more power. That definitely has something to do with it.
Miss California & "Opposite Marriage"
Gay blogger Perez Hilton asked Miss California Carrie Prejean in 2009 about her opinion on same-sex marriage. She tried to skirt how she felt about the hot-button topic (she is against marriage equality) and boy did she did a bad job. Yet, she dropped this gem: "I think it's great that Americans are able to chose one or the other. We live in a land where you can chose same sex marriage or opposite marriage."
When Miss Venezuela Couldn't Crown The Other Miss Venezuela
At this point, it's pretty clear that most "oof" moments happen during the Q&A session, but this example is an exception. When the previous year's winner, Miss Venezuela, Dayana Mendoza, attempted to crown Miss Universe 2009 Stefania Fernandez — also Miss Venezuela — it didn't go as planned. But does anything?
Image: Ethan Miller/Getty Images News