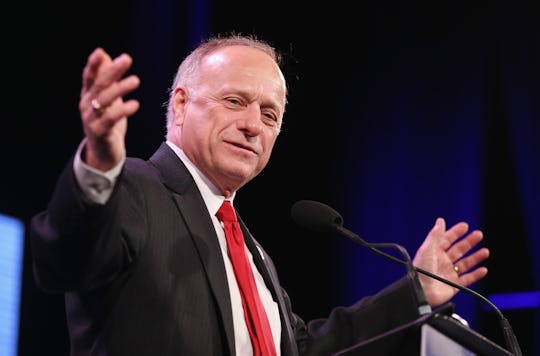 Scott Olson/Getty Images News/Getty Images
Steve King Equates Climate Change Arguments With 'Traditional Marriage' & Misses The Point
Iowa representative Steve King made an appearance on CNN on Wednesday to show support for Donald Trump's new "family-friendly" policies that were rolled out earlier this week. CNN's Chris Cuomo and King seemed to disagree on what, exactly, constitutes a family. Cuomo asked his guest if Trump's policies would benefit LGBT families, and King responded that he's interested in promoting "natural families." (King's limited definition of a natural family is that of "a man and woman joined together in holy matrimony, blessed by God with children.") Cuomo challenged this viewpoint, pointing out that there is a plethora of research that shows children raised by LGBT families do just as well as kids raised by a man and woman. King, in turn, completely missed the point and went on to compare traditional marriage to climate change.
"I think I'd need to look a little further into some of that research." King replied, not taking Cuomo at this word. "You know, we got down to the global warming argument and found that there was another side to that equation too."
While King is certainly within his rights to state that he does not believe in climate change or the benefits of being raised in an LGBTQ household, it's also important to point out that King is incorrect. Both the devastating effects of climate change and the positive effects of LGBTQ families are backed by concrete scientific research. It's harmful to society when high profile individuals, such as Steve King, perpetuate unsupported beliefs as fact on national television.
It's not surprise that King, a Republican representative from Iowa, is campaigning for Donald Trump. Scientific American, along with other scientific organizations, previously sent questionnaires to all the presidential candidates, and Trump's response highlighted his doubt that climate change is real and happening presently. He even put quotes around the words climate change in his response, writing that "there is still much that needs to be investigated in the field of 'climate change.'" Trump has even gone so far as to call climate change a hoax created by the Chinese.
The family-friendly policies Trump rolled out this week aren't much more reassuring than his unfounded disbelief in climate change. Much like Rep. King, Trump is a strong promoter of the so-called "natural family". He has consistently supported anti-LGBTQ legislature, such as North Carolina's HB2 and the First Amendment Defense Act. He picked Mike Pence to be his running mate, even though the Indiana governor signed a bill into law that would allow businesses to deny service to LGBTQ people. Trump has spoken out against marriage equality in the United States of America. He even said that as President he would appoint Supreme Court Justices who would support overruling national marriage equality, despite the clear research that shows the benefits our citizens experience because of this decision.
While King and Trump believe in promoting the natural family, there is hidden caveat to this claim. King is campaigning for Trump's new family friendly polices, however, they would not be beneficial to a majority of American families. Even so-called "natural families" will have a hard time finding sufficient support from Trump's family leave policy.
It's true that Trump is the only Republican candidate, besides Marco Rubio, to present a paid family leave plan. His plan proposes six weeks of paid maternity leave through the existing unemployment insurance program — but the six paid weeks off are also accompanied by a vague promise to reduce fraud in the system and little more. New mothers are not the only people who need paid family leave either, which means that the fathers and caregivers who need time off from their jobs to help raise a baby or to care for a family member would not receive the same benefit, under Trump's proposal.
Trump's plan would leave out new fathers, as well as all adoptive parents. His family leave plan leaves employees without a guarantee of paid time off if they, or a loved one, are suffering from a major illness. Studies show that comprehensive paid family leave has major benefits for children and families, both "traditional" and otherwise, of course. So perhaps King and Trump need to look a little further into some of that research before jumping the gun and incorrectly stating that there's unexplored territory on both "non-traditional" families and climate change alike.