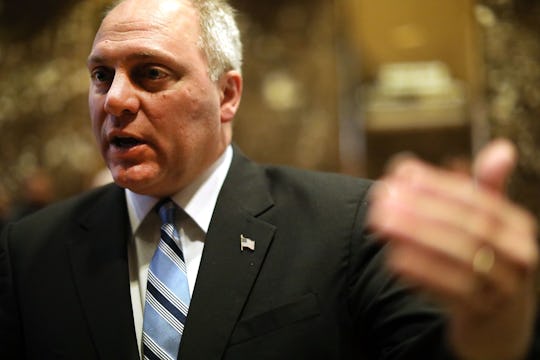 Spencer Platt/Getty Images News/Getty Images
Steve Scalise's Wife Releases A New Statement
Tragedy hit right outside of the nation's capital in Alexandria, Virginia on Wednesday morning when a shooter opened fire at a congressional baseball practice. This caused people to put their political differences aside and put their thoughts with those who were injured during the shooting. House Majority Whip and Louisiana Rep. Steve Scalise was struck by a bullet on Wednesday and still remains in critical condition just two days after the shooting. On Friday, Steve Scalise's wife released a new statement, updating everyone on her husband's condition and asking those to pray for the other victims involved.
Scalise was shot in the hip during the shooting at a baseball practice that injured four other people — a lobbyist, a congressional staffer, and two Capitol Police officers. After the shooting, according to CBS News, Scalise was at "imminent risk of death" when he arrived at the hospital that morning.
Scalise will remain in the hospital for weeks as he recovers from his injuries to internal organs caused by the gun shot wound. But as Scalise's conditions continue to improve, a representative for Scalise's wife, Jennifer, shared a statement from the hospital on Friday afternoon, that was later posted to Scalise's Twitter account.
"On behalf of Steve and our children, I want to thank everyone from the bottom of our hearts for the incredible amount of prayers and warm wishes we have received since Wednesday's events," Jennifer wrote.
In the statement, Jennifer thanked everyone for their support but brought special attention to Crystal Griner and David Bailey, who are the two people credited in preventing the shooter from taking the lives of others.
Most importantly, we are forever grateful for the heroism of Special Agents Crystal Griner and David Bailey, who saved the lives of everyone at the baseball field that morning, including Steve's. Crystal and David have been family to us for years, and we ask that you continue to pray for their full recovery.
Griner and Bailey, according to the Daily Beast, are a part of Scalise's security detail, and took down the shooter shortly after he fired shots. Griner, who sustained a gunshot wound to the ankle, according to CBS News, is still in the hospital but in good condition. Bailey was released from the hospital shortly after the shooting on Wednesday with a minor non-gun shot wound injury, according to NBC News.
The final part of Jennifer Scalise's statement is an important reminder to pray for the other victims wounded in the attack.
Our family asks that you continue to pray for Steve, Matt Mika, Zach Barth, and all of those hurt in the attack and keep them in your thoughts as they face recovery.
Congressional staffer Zach Barth, according to CNN, was shot in the leg and has since been released from the hospital. Matt Mika, a lobbyist for Tyson Foods, was shot in the chest and arm and still remains in critical condition.
Jennifer's statement is poignant. As her husband begins what will be a long road to recovery, it is important to remember to think of those who put their lives on the line to protect everyone on Wednesday and pray for a speedy recovery for Scalise and the others injured in the shooting.