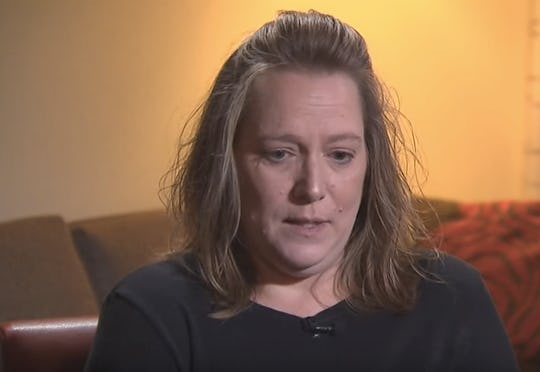 Steven Avery's Ex-Fiancee Speaks Out & Contradicts His Portrayal In 'Making A Murderer'
On Wednesday night, Steven Avery's ex-fiancée, Jodi Stachowski, spoke out about who Avery was while they were together in an interview with Nancy Grace producer Natisha Lance on HLN's Nancy Grace Show. She said the man at the center of Netflix's popular documentary series Making a Murder "is not innocent," according to the Daily Beast. She said she decided to appear on Grace's show to reveal "the truth – what a monster he is."
The shocking interview is remarkable for a few reasons, but, most importantly, it totally flies in the face of how Avery is presented in Making a Murderer. The opening episodes of the show portray Avery as a loving, happy-go-lucky guy who makes a lot of stupid decisions in his youth — decisions that later turn most of the community against him and the Avery family. If anything, Avery is portrayed as someone who isn't cunning or conniving enough to fool people into believing that he's good-intentioned when he's actually not. Romper reached out to Avery's new lawyer, Kathleen Zellner, for comment and did not immediately receive a response.
Stachowski defended Avery in the series, but she told Lance that she actually never loved Avery. She spoke out 10 years after Teresa Halbach's murder to tell people "He's like Dr. Jekyll and Mr. Hyde…behind closed doors, he's a monster," according to the Daily Beast. At one point, she said she was so desperate to get away from him that she came up with a plan to get herself into the hospital, according to Us Weekly:
I ate two boxes of rat poison just so I could go the hospital. And get away from him, and ask them to get the police to help me.
When Lance asked Stachowski whether Avery was capable of murder, Stachowski gave her a chilling answer, according to the Daily Beast:
Yeah, hurting people. He told me once, excuse my language, 'All bitches owe him' because of the one that sent him to prison the first time. We all owed him.
In the documentary, Stachowski told filmmakers that she didn't believe Avery committed the crime because of a phone call she had with him on the day Halbach's murder reportedly took place. Stachowski had been in jail for a DUI, and she told Making a Murderer filmmakers that she looked at her phone bill from October 31, 2005, the day Halbach was murdered, according to the Daily Beast:
I called Steven at 5:36 p.m. — supposedly when all this murder or whatever was supposedly happening. And we talked for 15 minutes, and the conversation was normal. He didn't sound rushed or like he was doing anything. And if he was in the middle of doing something, we wouldn't have talked for 15 minutes.
But, in the interview with Lance, Stachowski said she had lied to filmmakers about the phone call and about her belief that Avery wasn't guilty because she was afraid Avery would hurt her if he ever found out, according to Business Insider:
He'd beat me all the time, punch me, throw me against the wall.
Stachowski said that Avery had also threatened to "kill me, my family, and a friend of mine." He told her "if I didn't say anything good and nice about him, I'd pay," according to Business Insider.
The entire video is bizarre and shocking for fans who have wanted to believe the picture of Avery that was portrayed by Making a Murderer. Maybe he was guilty, many fans have said, but it didn't seem like he had a motive and it seemed like someone had it out for him. But this interview would give him some sort of motive, and it puts all of the facts in a much darker light.
Images: HLN/YouTube (2); Making a Murderer/Netflix