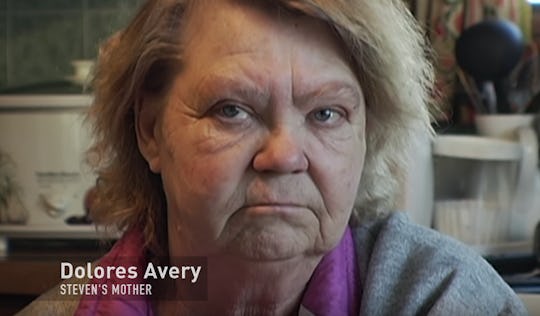 Netflix/YouTube
Steven Avery's Mother Finally Spoke Out & It's The First Time She's Commented Publicly On 'Making A Murderer'
Making a Murderer has become one of the biggest sensations since Serial, and the world has been watching carefully to see the fallout of the investigative TV show. Historically, Steven Avery's family has shied away from press — the filmmakers behind Making a Murderer have admitted that they got lucky in the fact that the Averys agreed to speak to them at all for the show. But now, Steven Avery's mother has spoken to the press for the first time since the show's release on Netflix.
Dolores Avery, 78, told The Daily Mail that all of her sons are innocent. She was responding to legal documents that Steven Avery filed in 2009, suggesting his two brothers, Charles and Earl — who allegedly have histories of sexual violence — may have murdered Teresa Halbach. It's the crime that Steven Avery and his nephew Brandon Dassey are currently serving time for, but Dolores Avery says all three of her sons are innocent. "[Steven] wrote that when he was in prison," she said of the legal document. "Maybe he felt he had to do something. But it wasn't anything to do with them."
"I think Steven will get a new trial. I don't know what it will take but I hope it comes out with the truth instead of a bunch of lies," Dolores Avery told The Daily Mail, and said she hopes renewed interest due to the Netflix series will help re-open her son's case.
The Averys' story has captured the hearts and minds of people around the world, and over 350,000 people have signed a Change.com petition calling for Steven Avery's pardoning. Wisconsin governor Scott Walker has already said he won't use his power to pardon Steven Avery, and Dolores Avery thinks that her son will have to leave the state to get a fair trial. "He won't get a fair trial around here, if he gets one. Somebody said that it could be in Texas, that's a way from here," she told The Daily Mail. "My son and my grandson are innocent."
"Maybe some believe in that stuff that he's guilty — but he's not," she said. And Dolores Avery is right, at least in the fact that some people doubt Steven Avery's innocence. Making a Murderer makes a very convincing case for a setup of Steven Avery — but details that went unmentioned in the documentary have also come out after the show's popularity, prompting some to believe Steven Avery is, in fact, guilty of Teresa Halbach's murder. The day of her murder, he called her employer, Auto Trader, and requested her specifically — but did so under a false name. He also called her number three times that day, using *67 to hide his own number twice. It's not evidence that he committed the murder — but it is evidence that the filmmakers left out of Making a Murderer.
As for Steven Avery's brothers, TMZ reported that Earl Avery previously pled no contest to the sexual assault of his daughters, and at least three female clients at the Avery junkyard filed complaints about Charles Avery harassing them, all within a month of Halbach's disappearance. At the same time, Steven Avery was wrongfully imprisoned for 18 years for a rape he didn't commit, and was conveniently arrested for Halbach's murder after suing Manitowoc County officers for $36 million due to wrongful imprisonment. Making a Murderer definitely points out a number of disgusting injustices, and makes a very convincing case for a corrupt justice system in Manitowoc County.
Dolores Avery and her husband stood by their son for the 18 years he first spent in prison, and they continue to do so now. They visit once a week, and Dolores Avery's prison interactions with her son during his now 25-plus years in the system is heartbreaking. "We can hug him, but only when we get there and when we leave. I suppose all the prisons are like that," she told The Daily Mail. "I hope that Steven gets out. Both Steven and Brendan. They are 100 percent innocent." Regardless of Steven Avery's guilt or innocence, it's been a harrowing experience for his parents, and the Netflix series and international support has likely been reassuring in helping them feel they are not facing the system alone.
Images: Netflix/YouTube