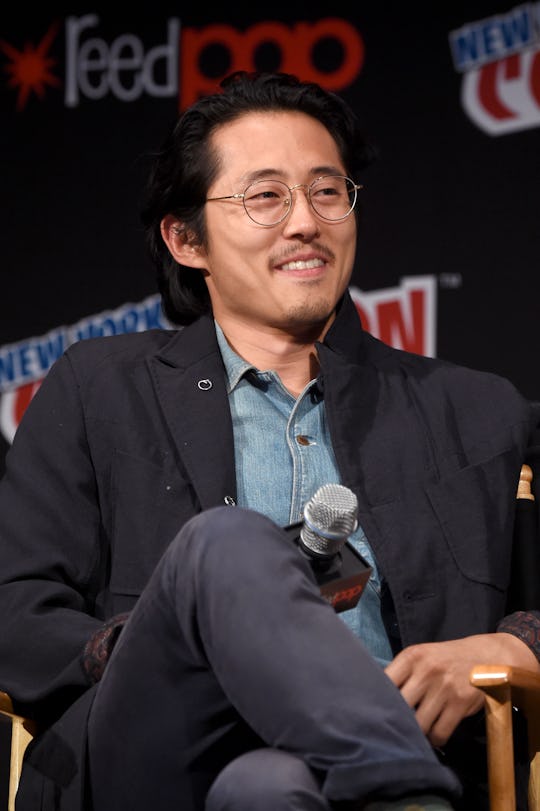 Jamie McCarthy/Getty Images Entertainment/Getty Images
Steven Yeun & Joana Pak Are Reportedly Expecting & 'Walking Dead' Fans Should Be Thrilled
Well, Steven Yeun may have gotten some bad news recently on The Walking Dead, but his personal life is going splendidly. Us Weekly on Tuesday reported that Yeun and his wife Joana Pak are expecting their first child together, though, according to E! News, a rep for the actor declined to confirm the baby rumor. Baby or not, it's been a big year for Yeun and Pak, who married on Dec. 3 after years together.
Yeun rose to national prominence seven years ago as sweet-natured pizza delivery guy Glenn on The Walking Dead, winning hearts among fans of the gruesome zombie show for his star-crossed romance with Maggie, played by Lauren Cohan. But, spoiler alert, Yeun recently gained a lot more free time when his character met a grizzly end, thanks to a barbed-wire-wrapped baseball bat and a psychotic bad guy. A lot of Walking Dead fans were not happy to lose one of their favorite characters, but hopefully the rumored baby news (and definite wedding news) can provide them with some comfort.
The real-life actor behind the beloved character is doing amazingly well for someone who just ended his star-making steady gig. In addition to a new wife and a reported baby on the way, he's signed on to star in two big upcoming movies.
In one, Okja, he'll costar with strange goddess Tilda Swinton in a story about a friendship between a young girl and a genetically modified pig. (A Charlotte's Web for our modern times?) And in the second, Mayhem, he'll be fighting for his life against a virus with disturbing side effects.
As for Pak, she's a professional photographer with a gorgeous Instagram page. (And Yeun seems to be one of her favorite muses.)
The couple wed at the historic Paramour Estate in Los Angeles, in a small ceremony with many of Yeun's Walking Dead friends in attendance.
Yeun's new sister-in-law wrote a glowing Instagram post upon attending the wedding, saying,
Getting to celebrate the love between these two, last night, along with all their friends and family was so beautiful and special!! This whole week has been an awesome, family-filled, fun time and it's been so great! (We've also gained a brother in-law from it!) #loveyouguys #pakpack.
And when the newly married couple went out together the Monday after the ceremony, Pak appeared to hold her new baby bump, according to Us Weekly.
Congratulations to the happy couple, and the unconfirmed-but-probable expectant parents!