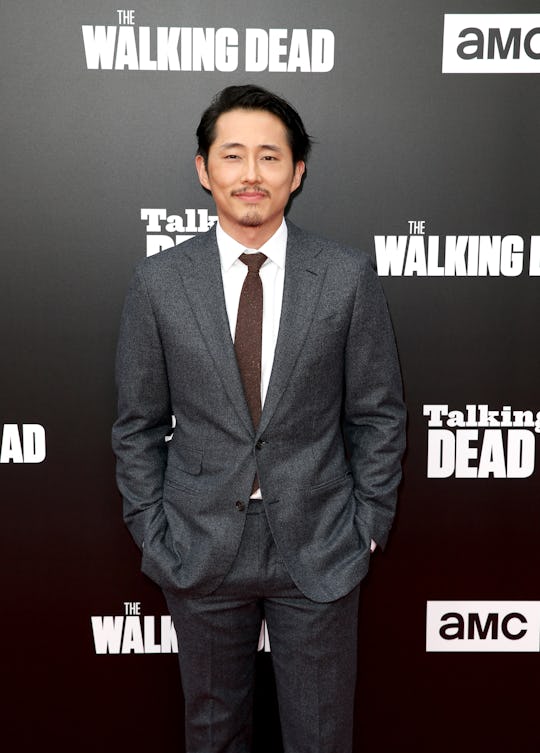 Joe Scarnici/Getty Images Entertainment/Getty Images
It's A Boy For Steven Yeun & Joana Pak!
Although it's been a sad year for The Walking Dead fans, it's been pretty great for Glenn. Well, the actor that played him at least (Spoiler alert!). This week, Steven Yeun and wife Joana Pak welcomed baby number one together, a healthy little boy. So even if his life on the zombie drama is over, a whole new chapter is beginning for the star and fans couldn't be happier for him.
Yeun announced his wife's pregnancy just a few days after their wedding last December, which most of his former The Walking Dead cast members, like Norman Reedus, Melissa McBride, and Emma Bell, attended. The couple's obviously been very excited about the new addition to their family as well: In February, they posted a photo series on Instagram showcasing Pak's bump in a cute silver dress, with the couple posing together, photo-booth style.
The couple is super active on social media, often posting pictures of themselves hanging out at their house and attending events with fans. A few weeks ago, Pak posted a picture of some swatches of fabric with both pink and blue, and captioned it "nesting." Some fans thought that the fact that the pink one was on top meant that they were having a girl, but we now know that's not the case. Or maybe they painted the boy's room pink. Who are we to get picky about color swatches?
These two might have had the craziest past few months yet. Not only did they get married and prepare for their son, Yeun's character was killed off of The Walking Dead after being a lead, and beloved, series installment for six whole seasons. That the cast attended the wedding is proof that it wasn't easy to say goodbye, since they all seem to be so close (how can you not be, fighting the living dead together in the depths of Georgia?).
Yeun told Entertainment Weekly that it was tough to leave the show, but that it was just as surreal as series itself. "This is something that will hit me maybe a couple of months from now," he says. "Or maybe it'll hit me next year. Maybe it'll be when I'm 45 and all of a sudden I'm just crying in my kitchen and I can't explain why," he said. In that regard, he added that he's not an overly emotional person and sort of wants to work on being able to let the waterworks flow more often. (No word yet on if he shed a tear or two for his new infant.)
Yeun added that it was tough to leave the show and that even his family members couldn't watch the super brutal death of his character, Glenn. It was also just weird because he had to keep his departure secret, felt sad that he wouldn't see his AMC crew anymore, and also, felt "a sense of relief that a chapter was closing, a sense of accomplishment," he said.
But there are big things ahead for Yeun and Pak, both professionally and, for the immediate future, personally. If you thought fighting zombies was tough, Yeun, just wait till you get on nighttime diaper duty.