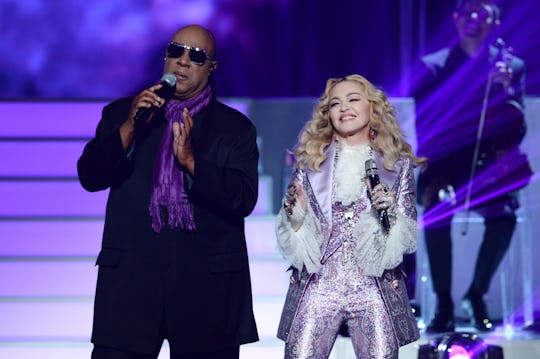 Kevin Winter/Getty Images Entertainment/Getty Images
Stevie Wonder Joined Madonna's Prince Tribute & Totally Saved The Day
Get those tissues out. Just when you thought the night couldn't get anymore epic, Stevie Wonder joined Madonna's Prince tribute at Sunday's Billboard Music Awards and effectively saved the entire night. And it's a good thing he crashed the party when he did — up until that point, despite the emotional nature of Madonna's big tribute performance, reviews had been largely mixed.
"Prince is in heaven shading this performance with us," joked one Twitter user early in the number. "Don't worry ya'll." Tweeted another viewer, "Prince's spirit needs to come cut the mic off." Ouch.
For the most part, Madonna's beautiful number elicited a number of lukewarm reactions from Prince fans and music buffs alike — but that all changed once Stevie Wonder walked onstage midway through, holding Madonna's hand, and gave everyone what they really wanted: a soulful rendition of "Purple Rain" that would be talked about around water coolers for months to come. Immediately, the buzz on social media shifted.
"Thank God Stevie came on stage," tweeted one upset viewer. "That performance by Madonna dishonored Prince to say the least." Not everyone was upset, of course. But regardless of what audience members felt about Madonna's showing, most were undeniably enthusiastic about the idea of Wonder joining the tribute to buff things up in honor of the late singer, who passed away in his Paisley Park estate on April 21 at the age of 57.
Clad in a dark suit and fittingly purple scarf, Wonder swayed back and forth to the music, slipping in a few trademark ornamental trills, while Madonna joined him for the song's popular chorus. In the audience, high profile celebrities like Rihanna and The Weeknd sang along, holding up the glow of their phone screens like lighters. If there was any doubt the the evening would end on a high note, Wonder ended it when he walked onto the violet-lit stage.
The performance closed the evening's festivities, with DJ, producer, and Roots drummer Questlove opening up the number by dedicating a few words and a moment of silence to Prince himself.
"On April 21, we lost Prince," Questlove said. "I say 'we' because it affects us all — and no matter what kind of music we make, no matter how long we made it, no matter our race, our color, our creed, or sexual orientation, all of us live in the land of music."
He continued,
His departure from [the land of music] was an earthquake. But his departure leaves behind so much work still to do. We can follow the trails he blazed, we can follow his example. We can be fierce, we can be uncompromising, we can be experimental. We can also listen to all the songs he left for us. He was very, very generous in that regard. And as we move forward, we will encounter, every single day, more reasons to remember him. Every time we hear a really great guitar solo, we're gonna remember him. For that matter, every time we hear a funky bass line, a synthesizer keyboard, a distinctive drum pattern, someone singing a high falsetto, someone singing real low, someone screaming — or see someone wearing a yellow suit with the rear removed. So I just want to take a moment to remember the great Prince Rogers Nelson. It can be a moment of silence here in the air. But inside of our heads, it should be anything but silent.
Questlove's words, paired with Wonder's moving performance of Purple Rain, and Madonna's dedicatory "thank you" at the end of the evening ("Most of all, thank you, Prince Rogers Nelson, for all that you have given us," she noted) all came together to provide viewers and longtime Prince fans alike the fitting tribute they, and the king of modern pop, deserved.