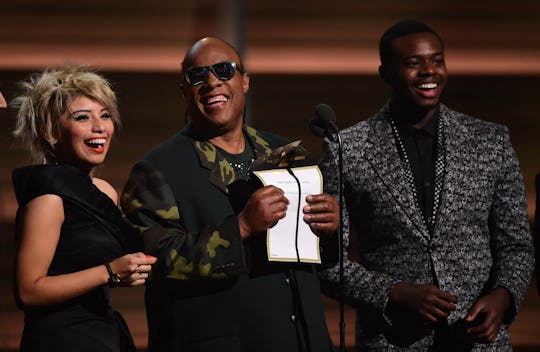 ROBYN BECK/Getty
Stevie Wonder's Grammys Quote Is The Only One You Need To Pay Attention To
Award shows are not only a place to celebrate celebrity's achievements and gawk over fabulous fashion. They can serve as a platform for stars to bring attention to serious issues impacting the world we live in. And Steve Wonder made sure to take advantage of that opportunity at the 2016 Grammy Awards. During the ceremony, Stevie Wonder made a comment about people with disabilities that everyone in the audience and at home should pay attention to.
Wonder was presenting the award for Song of the Year alongside a cappella singing Pentatonix. After the nominations were read, Wonder made a show of fumbling with the envelop. He than showed the envelop to the audience, pointing out that they couldn't read the results because it was written in braille. Wonder then dropped a truth bomb that made everyone watching stop to think.
"We need to make every single thing accessible to every single person with a disability," Wonder said.
Wonder's words were met with applause, and not just because he's a 25-time Grammy Award-winner. And not just because his statement was spot-on. But because in our efforts to make the world a better, we often overlook people with disabilities. We all know we still have a long way to go in ridding the world of racism, sexism, and homophobia, but we also have a long way to go when it comes to defending those who are discriminated against for their disabilities
And the world quickly got behind Wonder's sentiments.
We applaud you, Stevie Wonder, and your continued effort to make the world a more inclusive place for all.