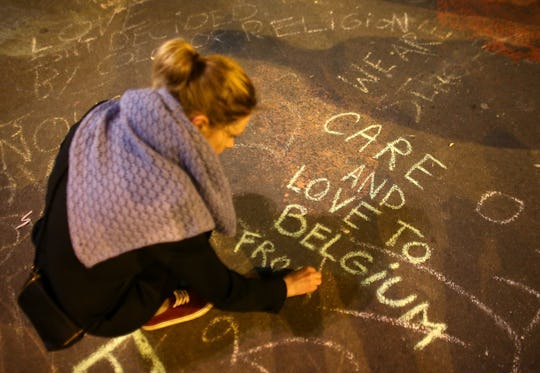 Carl Court/Getty Images News/Getty Images
Stirring Photos Following Brussels Attack Show The World Banding Together In Tribute
On Tuesday, two explosions shook the city of Brussels, Belgium. The attacks, which have since been claimed as the work of militant jihadist group ISIS, killed at least 34 and wounded 230 people, according to authorities. Throughout the day, a wave of stirring photos following the Brussels attack showed people in cities from all over the world coming together to pay tribute and show solidarity for the victims killed or injured at the Zaventem Airport and Maelbeek metro station.
Earlier this week, police arrested one of the alleged terrorists from the November Paris attacks, Salah Abdeslam, in the Brussels' neighborhood of Molenbeek. The city had been on lockdown with a heightened level of security, according to Reuters, out of precaution for any potential planned attacks in the area or retaliatory measures. On Tuesday morning, following the series of deadly explosions in the capital city, Belgian Prime Minister Charles Michel of Belgium made a statement alluding to security and expressing outrage at the violence.
"We were fearing terrorist attacks, and that has now happened," Michel said, in a statement, according to The New York Times. He added that the attacks were "blind, violent, cowardly."
On Twitter, Michel advised Brussels residents to stay where they were and refer to the crisis center phone number if needed until the danger had passed, but that didn't stop people from coming together in the center of the city Tuesday evening to hold memorials for the victims of the attacks and their loved ones. Across the globe, the very same thing seemed to be taking place.
Here are a few of the day's most moving moments, captured on camera.